Tour
DOLPHIN & PILOT WHALES TOUR (3 hours)

Join us on one of the Resort's boats for three hours of excitement in the Bunaken Marine Park as we set sail to encounter one of our most famous local inhabitants: the lumba lumba (Indonesian for dolphin). If you are lucky the timid lumba lumba will swim in groups under the boat's keel. While sailing in the park you may also encounter hundreds of pilot whales.
Departure time from Siladen 7:30 am. Return time approximately 10,30am.
Minimum pax required 2
Price: Rp. 500,000 per guest (boat, car, guide)
---
MANADO SIGHTSEEING (½ day)
From Siladen Resort we take a boat to Manado, and then we go to the traditional market after that visit the Ban Hian Kiong Temple, it's the oldest Buddhist temple in eastern part of Indonesia. It was built in the early of 19th century. After that we go for shopping, and back to Siladen
Resort.
Points of interest:
– Traditional market
– Indonesian Museum
– China Town
– Souvenir shop
– Shopping mall on request
Dept. time from Siladen about 8:00 am, transfer by boat and private car to Manado, return time appx. 1pm on time for lunch.
Minimum pax required 2
Price: Rp. 750,000 per guest (boat, car, guide)
---
MINAHASA HIGHLAND TOUR (full day)
From Siladen Resort we take a boat to Baracuda Jetty. Then we travel towards Woloan village and observe the Minahasan Houses being built. Choose your house and they will deliver to your doorstep, Knock down style! After, we'll visit waruga, waruga. Ancient graves of minahasan people who died long ago, the bodies inside are in the sitting position. Next is the awesome traditional wet market where you will be delighted (individual taste may vary) with our local version of a western supermarket! Then we have lunch on the biggest lake in the region, Lake Tondano. Enjoy our traditional fish cuisine, fried or grilled. Bring a sweater as it can get windy. After lunch and short distance later you will see Polutan Village, a cottage industry for making pottery. Our journey back will bring us to the changing color lake, Linow, due to its sulfur contents it's quite breathtaking. We will stop along the way for some handicrafts at Tinoor. Traditional hats and Bamboo handicrafts just to name a few.
Dept. time from Siladen 8:00 am, transfer by boat and private car to Manado, return time approximately 5pm.
Minimum pax required 2
Price Rp. 1,038,000 per guest (boat, car, guide and lunch )
---
TANGKOKO RAINFOREST TOUR (full day)

The island of Sulawesi, Indonesia's third largest, is characterized by large tropical forests and dense jungle home to many endemic species, insects, birds, plants, beautiful waterfalls and wild rivers. Flora and Fauna is the order of the day. If jungle walk is your forte, why not try this adventure?
From the Resort, we proceed in a comfortable coach for a 3 hour journey on the road towards the national park where we will trek and hike in search of the Black Crested Macaque (Makaka Nigra, indigenous to North Sulawesi) and the Tarsius Spectrum (the world's smallest primate). There are plenty of birds – look out for the Hornbill Bird (Rhyticeros Casidix). Upon finishing our tour of the park, we will proceed towards Manado and stop by a local restaurant for dinner before returning to the resort. Bring your Cameras, long trousers and insect repellent. Our guides will bring the rest for you. Your lunch will be brought from the Resort. This excursion is suitable for people of all ages as the walks are easy.
Dept. time from Siladen 10 am return time 10pm or alternatively dept time 8 am return by 5pm
Minimum pax required 2
Price Rp. 1,250,000 per guest (boat, car, lunch box & water, torch, park ranger guide)
---
MT MAHAWU VOLCANO TREKKING (full day)
The Minahasa region is formed by montains, hills, green valley and volcanoes (active and non-active). Some of them are possible to be explored during your stay at the Resort. All the guides follow the safety standard set by UIAA (United International Alpine Association) and have more than 15 years experience in trekking on volcanoes.
The elongated Mt. Mahawu volcano lies immediately east of Lokon-Empung volcano. It is the northernmost of a series of young volcanoes along a SSW-NNE line near the margin of the Quaternary Tondano caldera. It contains a crater lake with fumaroles and small geysers.
Mahawu is capped by a 180-m-wide, 140-m-deep crater that sometimes contains a small crater lake, and has two pyroclastic cones on its northern flank. Less active than its neighbor, Lokon-Empung, Mahawu's historical activity has been restricted to occasional small explosive eruptions recorded since 1789. In 1994 fumaroles, mudpots, and small geysers were observed along the shores of a greenish-colored crater lake.
A surprisingly easy to climb Mt Mahawu is a must for those who love to see nature while enjoying a gentle climb towards the top. Our transfer will bring us to Tomohon Vegetable farms and that's where we will start our ascent. From the base it will take us around a 1- hour trek to the lip of the crater. The breathtaking view will make you realize more of what scenic Manado has to offer: from the isles of Siladen, Bunaken, Manado Tua and the city of Manado. The "steamy" lake and sulfur aroma will tickle both your visual and olfactory senses. Upon descending to the base we will proceed to a local restaurant for a sumptuous Minahasa style lunch. Stopping along the way for local handicrafts can be arranged upon request.
Location: 1.358N, 125.858N
Elevation: 4343.8 feet (1,324 m)
Type: Stratovolcano: A volcano composed of both lava flows and pyroclastic material.
Last eruptions: 1788, 1789, 1846, 1904, 1952, 1958, 1977
Level of walk: easy
Departure from Siladen at 8:00 am and once in Manado it will take the car appx. 40 minutes to arrive to the point were the trekking begins. Return time at Siladen approximately 5pm.
Minimum 2 people required
Price Rp. 915,000 per pax (boat, car, guide and lunch)
---
WHITE WATER RAFTING – WET AND WILD TOUR (full day)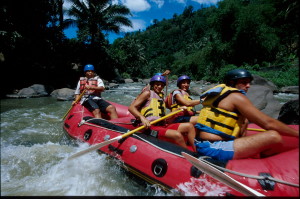 The Minahasa region is formed by Mountains, hills, volcanoes, green valleys and rivers. Rafting gives the chance to ride deep into the forest of sulawesi. The music of the nature is surrounding all the Nimanga river which offer 9 km and 35 rapids during the 3 hours ride. Black macac monkey and beautiful birds can be seen during this adventure.
This excursion is suitable for both beginners and advanced rafters as different paths can be chosen. Fun is guaranteed!!! A nice lunch at the town of Sawangan will close this beautiful day. All the rafter leaders are professionally trained in order to assure safety at all time and to ensure this standard procedures set by A.W.A (American Whitewater Affiliation) are followed strictly.
Departure time from Siladen 8am, return to the Resort at approximately 5pm
Minimum pax required 2.
Price Rp. 1,250,000 per pax (boat, car, guide, equipment, lunch, towels and snacks)
---
ROMANTIC SUNSET BOAT TOUR (2 hours)
Siladen island is a location where you can admire some of the most beautiful sunsets. You will have the option to have a boat taking you towards Manado Tua volcano which lies in the middle of the sea close by Bunaken Marine Park. There with just the sound of the wind and sea you will be able to enjoy at best any romantic moments with the grate panorama under your eyes.
Dep. Time from Siladen 17:30, come back 19:30
Minimum pax required 2
Max pax without extra cost 6
Price Rp. 450,000 per pax (including refreshments on board)
---
TRADITIONAL FISHING (10-12 hours)
For the people who loves fishing there is a chance to do it while at Siladen. You will be taking a boat and ride for 2-3 hours outside the protected marine park. There, in the middle of the sea you will find a little bamboo house and nothing else. In sulawesi the locals take this little bamboo house (ruma bamboo in Bahasa ) out at sea where big yellow tail tuna and other fish are. The ruma bamboo in "anchored" to the bottom of the sea which some times can be more then 500mts deep. The tools used traditionally and still today are a spool with fishing line and the bait. And by hands you will be fishing.
Not to say that you will be surrounded by at least two or three professional fishrman in this art whose are the boa's tcrew taking you in this adventure as since they were little kids they were introduced in this art.
Dept. time from Siladen 2am, return time 2pm
Minimum guests required 2
Price: Rp. 1,000,000 per guest (Boat, breakfast, refreshments and tools)
---
PRIVATE BOAT (5 hours)

If you want to enjoy your own private boat at Siladen you can. For 5 hours we will take you within the Bunaken Marine Park at your discretion. A guide will be on board with you to take you snorkeling, If you are certified diver you will be able to dive wherever you like in the marine park. Please note that the dives will be charged separately.
Minimum pax required 1
Max pax without extra cost 8
Price: Rp. 3,450,000 per guest (Boat, snorkeling guide, refreshments and snacks)