Giacomo Marchione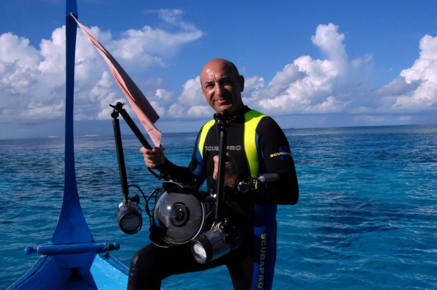 Giacomo Marchione , was born in Moncalieri 15/02/1960. He started his studies in Moncalieri and moved to Turin for his Medical Degree as a Surgeon, where he graduated in 1988. In 1990 he started working in Orthopaedics and Trauma Doctor.
Since young he loved sports. At the age of 13 he won "Piedmontese Champion" of speed in the eighty meters of light athletics.
In 92 during a trip to a tropical country he decided to take his first underwater dive course.
Since the first dive he felt the need to document the beauty of the underwater world. Being a lover of photography and having already won some photographic contests it was a short step to also start his underwater photos with good results.
***
Giacomo Marchione, nato a Moncalieri (TO) il 15/02/1960, si laureava in Medicina e Chirurgia a Torino e si specializzava a seguire in Ortopedia e Traumatologia. Esercita da tempo la sua professione, quale Chirurgo Ortopedico, presso la struttura di eccellenza Ospedale Santa Croce di Moncalieri.
Nel 1992, durante uno dei suoi viaggi nei paesi tropicali, prendeva il suo primo brevetto subacqueo. Già dalle prime immersioni sentiva il bisogno di documentare la bellezza del mondo sottomarino e trasmettere a terzi, tramite le sue fotografie, le fantastiche emozioni che il "Profondo Blu" gelosamente nasconde.
La sua passione per la fotografia subacquea e le sue foto, sono oggetto di significativi riconoscimenti artistici sia a livello nazionale che internazionale.