Lisa Collins Underwater Photography Workshops
2018: 1 st September – 8 th September
2019: 25 th May – 1 st June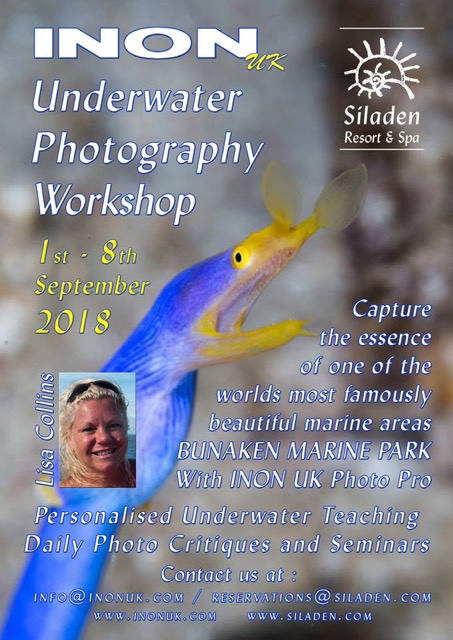 At the beginning of September 2017, Siladen Resort & Spa welcomed award winning underwater photographer, Lisa Collins, to host one of her famous photography workshops. Lisa is a well-known and respected figure in the world of underwater photography and dive journalism, being an senior contributor to major dive publications such as Diver Magazine, Dive Pacific, and Dive New Zealand. She is also a partner in INON UK, the exclusive distributor of INON underwater photography products.
Lisa is passionate about teaching underwater photography, and can easily cater her instruction style to meet the demands of both novice and experienced divers and photographers. During her workshop, participants learnt about certain topics through in-depth presentations, before heading out onto the boat to complete tasks relating to that subject. Topics included, but were not limited to; close focus wide angle, Snell's window, split shots, snooting, advanced macro, and shooting the sun.
The variety of diving throughout Bunaken Marine Park makes it an ideal location for workshops of such a varied curriculum. We can spend days exploring the endless walls that Bunaken is famed for, taking wide angle shots of schooling fishes and friendly turtles in crystal clear waters, followed by some serious critter hunting and advanced macro photography on the sandy slopes of North Sulawesi.  
"Siladen Resort and Spa was the perfect place to run the workshop, offering a luxury unrivalled by most other underwater photography workshop. In the middle of Bunaken National Marine Park, the location of Siladen couldn't have been better to access the incredibly beautiful, healthy reefs and stunning walls teeming with marine life as well as muck diving full of weird and wonderful critters."
-Lisa Collins 
Specifically designed for advanced beginners to advanced intermediate underwater photographers, the workshop was very successful and thoroughly enjoyed by all.
Because this year's (2017) workshop was so successful, we have planned a further two; one in 2018, and one in 2019. However, for Lisa's next workshop, there will be two different duration options. The first, 7 nights, will be designed to get you taking consistently good pictures, tackling subjects such as close focus wide angle, shooting the sun, flash aiming, macro photography, and post production. The second option, 9 nights, will cover all the above, plus more demanding topics, such as advanced lighting. Whichever option you choose, you will depart with a new wealth of knowledge that you can draw upon to get that perfect picture on future dive trips.
The dates for the upcoming Lisa Collins Underwater Photography Workshops are as follows:
2018: 1st September – 8th September
2019: 25th May – 1st June
If you are interested in joining us for either of the dates, or would like some more information regarding these workshops or other upcoming events, contact us at: ana@siladen.com