SUSTAINABILITY
MISSION
Our mission is to provide guests with a unique and memorable experience that will lead them to return to Siladen. We will behave in a socially and environmentally responsible manner and we are committed to taking an active role in the local community.
TURTLE SANCTUARY
In 2004 we launched a conservation program to protect and safeguard turtles. Our staff have been trained by marine biologists to handle turtle eggs and to manage hatching grounds. To date over 1000 turtles have hatched through this conservation program. We also support The Turtle Foundation, an international charitable organization working in sea turtle conservation projects.
BEING GREEN
We are committed to preserving and protecting the environment in which the resort is located. It is only by ensuring that the environment is adequately protected that we can guarantee the long term success of Siladen Resort & Spa. There is more to be done and here is what we currently do:

We are using mostly energy saving light bulbs.
We use Biosolve, a bacteria-based cleaning product which eats grease and converts it into carbon dioxide.
We are continuously working on projects to improve our energy efficiency.
PRESERVING THE ENVIRONMENT
As part of our efforts to preserve the marine environment, we have installed buoys to allow boats to anchor without damaging the coral reef. Our staff are forbidden from using boating practices that may cause damage to the coral reef, and guests diving with Siladen Resort & Spa sign the NSWA code of practice.
We regularly support and contribute to the creation of artificial reefs and "Biorocks".
We organise regular PADI Project aware activities and World Ocean day activities and we invite the local children to be part of these projects.
Siladen Resort & Spa actively participates in all activities organized by the NSWA. These include among others Eco Reefs installation in the Bunaken National Marine Park, regular COTS (Crown of Thorns) clean ups, and release of illegally fished Napoleons.
WASTE
Waste is a major problem in all developing nations. We pursue a policy committed to reducing waste at the Resort to a minimum. The use of plastic containers is limited to bottled water. We are currently installing reusable 19 liter bottle of drinking water in the rooms and in most common areas of the resort. All other drinks are either served in cans or glass containers. Wet waste from the kitchen is disposed of at sea or given to the villagers to feed local animals. Dry waste is divided between plastic, glass and cans and disposed of in the city of Manado where part of it is recycled.
Some of our Waste Management efforts are:

We pay the villagers to clean the beach of Siladen island and we help them sending the non organic waste to Manado.
We organise regular clean ups with the help of the local school children and we regularly do short presentations about marine debris to local children.
LANDSCAPING
We are committed to preserving the original vegetation of the island. We have therefore embarked on a long term landscaping effort aimed at continuously improving the attractiveness of the Resort and its surroundings.
WATER
To avoid depletion of the island's water supply we have also installed water capturing systems on some of our buildings to capture and divert rain water to our reservoirs. We also capture the water from the AC units and use it to water our plants and herb garden.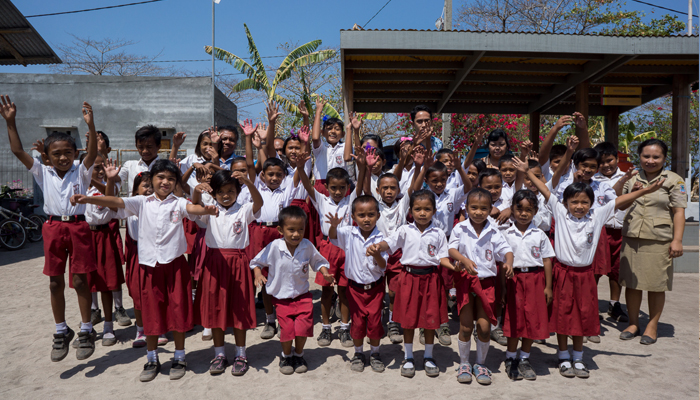 SOCIAL RESPONSIBILITY
We believe it is our corporate responsibility to maintain an open dialogue with the local community on the Island of Siladen Island and to help improve the standards of living of the local inhabitants.
Siladen Resort & Spa employs approximately 60 people from the local Kampung. This means that one out of three inhabitants of the island receives a regular monthly salary and benefits from social security payments. All our employees also receive regular on-the-job training and everyone is hired according to Indonesian labour regulations. In addition, Siladen Resort & Spa has extended its electricity service to the village and provides five hours of free electricity every evening for both private and public use.
We have helped building the local church and we also helped rebuilding the local school. We have helped an Australian/Indonesian Doctor program to monitor the health conditions of the local community and building a water recovery system for the school.
Other ongoing social projects:

Support the children of the poorest families to go to school, guests donations are used to buy books and other school supplies for the less fortunate families.
We hope to create a library/learning centre, with guests and the resort donations we can buy books, games etc.. to be put in the school for all the local children.
We pay a fee to the children choir every time they play at the resort, these funds are used to buy different things to the children and the local communities.
If you wish to contribute financially or offer help with of any of these projects, please let our management team know.
We also launched "Siladen Futurekids" a program aimed at raising, together with our resort guests, over USD 1,000. The money has been used to rebuild parts of the local school, complete buildings that have been left unfinished, purchase school books, supplies and note books, build tables and chairs. Approximately 35 children between the ages of 6 and 11 attend school on Siladen.