Welcome to The Spa at Siladen
Close your eyes. Dream. Drift. Relax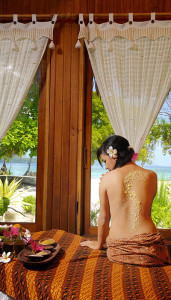 Spa en Siladen le ofrece una oportunidad única para relajarse, beneficiarse de los tratamientos tradicionales, descansar la mente y mimar su cuerpo. Disfrute con nuestra calmante, edificante y restaurativa terapia basada en conocimientos antiguos e ingredientes indígenas. Simplemente restablecer el equilibrio y descansar.
Nuestro tratamiento de aromaterapia utiliza los mejores aceites exclusivamente preparados en Bali. Experimente nuestra variada gama de productos naturales de limpieza corporal y rituales. Seleccione de nuestro amplio menú aromaterapia, exfoliantes, tratamientos con piedras calientes o embárquese en un viaje completo en nuestros Spa.
Therapy Oils
All our aromatherapy treatments use the purest essential oils and fine blends of coconut, soy, almond and other oils to condition and moisturise the skin.
Essential oils are the pure aromatic volatile essence of plants usually extracted by distillation. Each oil has specific healing properties that transform aromatherapy into a treatment for the mind and body.
The natural healing powers of the essential oils intensify the effects of the aromatherapy treatment.
Natural Scrubs, Polishers, Rituals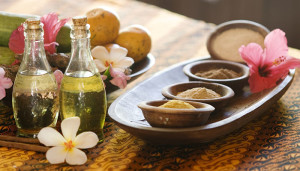 Daily renewal of the skin can be approached in different ways. Cleansing and exfoliating the skin removes dead skin cells, toxins held on the skin surface and encourages cell rejuvenation.
Select among different nutrient rich scrubs based on the use of marine salts and essential oil to leave your skin soft and cleansed and to improve circulation.
Alternatively opt for a combination of island grown tropical fruits such as papaya and coconut, pure organic coffee, ginger and cucumber with their natural exfoliating enzymes and detoxifying properties. During these simple rituals, therapists use gentle circular movements to polish your body. Treatments are followed by a tepid shower and moisturising body lotion based on natural ingredients.
Body rituals based on ancient traditional recipes use a combination of local Indonesian spices to heat and restore the body.
Click to view our Spa menu (400KB)