Located at the heart of the coral triangle, the Bunaken National Marine Park (BNMP) covers a total area of over 890 square kilometres.
With more than 390 species of coral living within the park's boundaries, it is amongst the most bio-diverse marine parks in the world. The extraordinarily high levels of marine diversity, combined with the ease of access, put Bunaken National Marine Park high on the list of every ocean enthusiasts bucket list.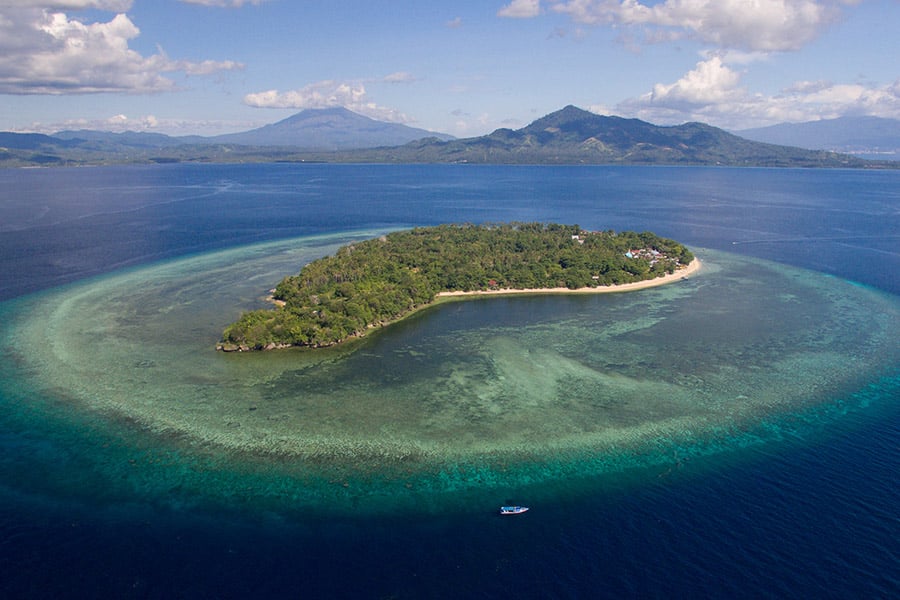 Bunaken Marine Park is famed for its rich macro life and pristine shallow reefs — with the latter being more of interest for snorkelers. 
While snorkelling over any of the twenty-plus sites within easy reach of Siladen Resort & Spa, you can expect to see healthy and seemingly endless coral reef gardens dotted with enormous sponges and anemones blowing in the current. 
Huge schools of reef fish are common in the shallows, and turtles are spotted on almost every site that we visit for snorkelling — sometimes as many as 15 in an hour. Larger species such as reef sharks, eagle rays, or napoleon wrasse are spotted regularly by snorkelers too.
The reefs surrounding the island start very shallow and slowly deepen to around 5m before the wall plummets into the deep. The average tidal excursion is between 1.5m and 3m, meaning you are never far from the action. 
The visibility is generally good year-round — with an average visibility of around 30m. Visibility over the shallow reef near mangroves can be negatively affected by the outgoing tides, although we always try to plan around the tide. 
Currents can be strong and unpredictable, so we always conduct a current check before entering the water, and we always follow the current during our snorkelling sessions. The boat will pick you up when you are ready to leave the water. 
The average water temperature throughout the year is 28ºC, although upwellings from the deepwater below can cause dramatic temperature fluctuations — sometimes varying up to 4ºC on a single site. We recommend all snorkelers either wear a full body suit or at least a long-sleeved rash guard used in combination with a reef-friendly sunscreen.
The best way to experience the variety of snorkelling in Bunaken Marine Park is by joining one of our twice-daily scheduled boats. Included in the boat excursion is a snorkelling guide, who will take guests at a ratio of four guests per guide (4/1). The boats are either a mixture of divers and snorkelers (with sites planned that suit the needs of everybody) or just snorkelers. 
Upon arrival at the site, you will be given a site-specific briefing explaining the site's topography and what you may expect to see, followed by important safety information. The amount of time you want to spend in the water is completely up to you. We generally brief for 70 minutes per site, but this time is much more flexible for snorkelers than it is for divers, and it is not uncommon for guests to spend much longer than this in the water. 
Besides the morning and afternoon snorkelling, you are also very welcome to join the boats at night for night snorkelling. Night snorkelling can be an amazing experience, but you need to visit the right sites to have the best experience possible. Luckily, our dive and snorkel guides know exactly where to take you so you enjoy your night snorkelling session just as much as the divers do. We depart from Siladen Resort & Spa at 17:45, and the sites are usually no more than 20 minutes away. Each snorkeler will be given a high powered torch with a focused beam, and the guide will carry extras too.
All prices are charged in Rupiah and include 21% service and government taxes. The Resort reserves the right to change its price lists at any time without prior notice.
PADI Courses and dives booked are non refundable and non transferable.