There are over 50 dives sites within easy reach of the Resort. All dive sites around the 5 islands of the Marine Park are wall dives whereas dive sites alongside the coast of North Sulawesi are mostly dark sandy slopes with corals. A wreck site is also available for diving in the Manado bay.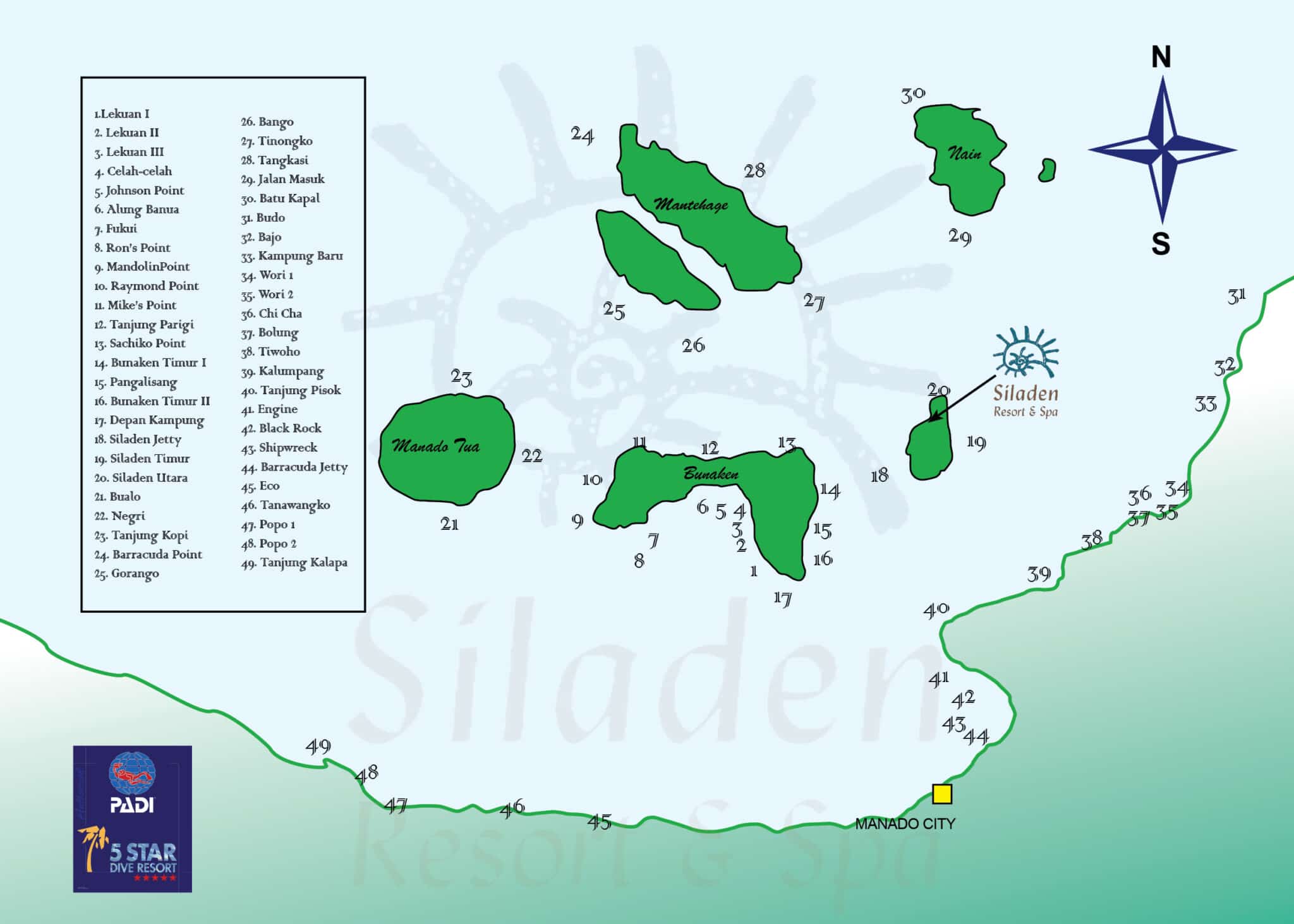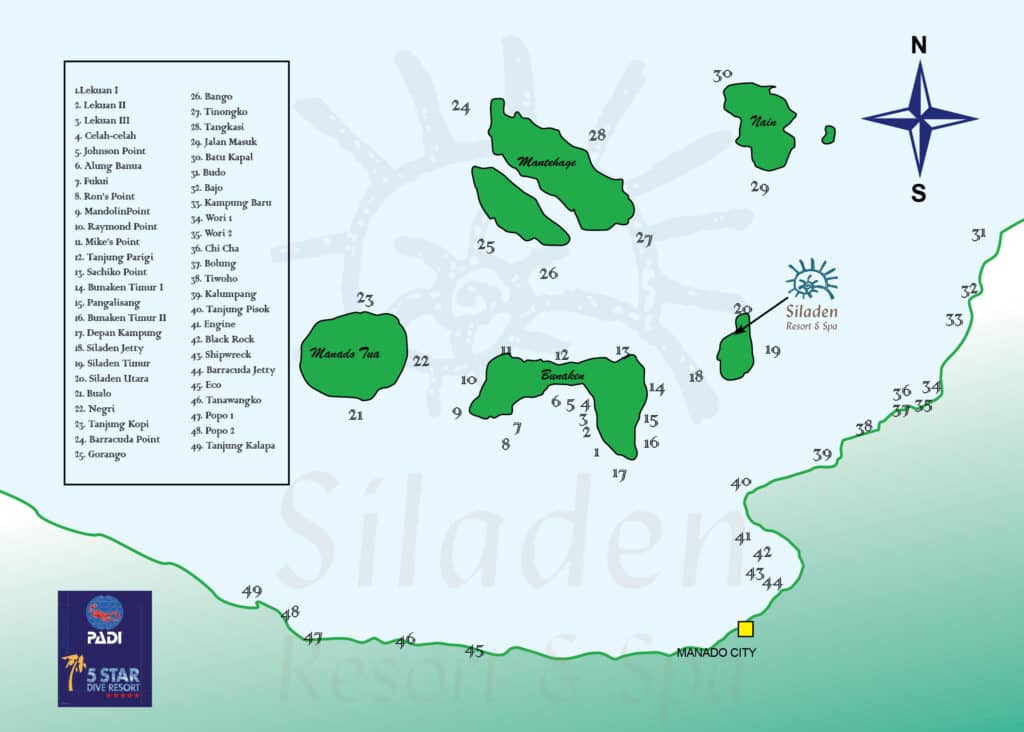 Set inside the crescent shape of Bunaken island. Lekuan is the signature dive of Bunaken Marine Park. Because this wall stretches for several kilometres ,the Lekuan wall is broken into several different dive sites – Lekuan I, II, Pygmy and III. Starting from Lekuan III you have a gentle slope that quickly turns into a vertical wall that goes extremely deep.
Here you are almost guaranteed encounters with enormous green and hawksbill turtles, often more than ten in less than one hour. The walls are encrusted in ancient sponges, sea fans and black corals, and the top of the reef has an incredible coral garden that is perfect for snorkelling.
Aside from numerous turtles, you will encounter schools of long-jawed mackerel , fusiliers, pyramid butterfly fish, and often larger fish pass by such as reef sharks, tuna, napoleon wrasse or eagle rays. The wall is home to numerous macro critters such as nudibranch, ghost pipefish and many species of shrimp.
The currents can be strong on the corners, however due to the shape and length of the wall, it is usually possible to find a sheltered area.
A great wall dive with crevasses, swim thru, caves and canyons. Particularly nice for photographers when the sun rays penetrate the crevasses and canyons. As it is very sheltered from waves and current, it is ideal for night dives. Many different shapes of hard coral, soft corals, ascidians, and feather stars.
MARINE LIFE HIGHLIGHTS: Butterflyfish, parottfish, wrasses, yellow box fish, surgeonfish and triggerfish.


Taking the name from a small village on the south side of Bunaken, Alung Banua is the perfect dive site for when the current is strong everywhere else.
The dive begins on a sloping sandy patch which is home to several jawfish and leaf scorpionfish, followed by a vertical wall with many small crevices and one large chimney style cave. There are many crinoids on the wall, and ghost pipefish and  crinoid shrimp are regular sightings.
7. Fukui and 8. Ron's Point
A large, gentle sloping reef on the south-western point of Bunaken that is home to an enormous garden of cabbage corals. Fukui  is home to a large, resident school of batfish, and many larger fish such as tuna and barracuda frequently visit to get cleaned. There is also a large sandy plateau at around 30 metres that regularly hosts reef sharks looking for a rest, and at 20 metres you can find some enormous giant clams.
Ron's Point begins after a mini wall at the end of Fukui, and is a similar reef structure. A large gently sloping reef that the current often whips over, bringing larger fish into the shallows. Reef sharks, tuna, eagle rays and napoleon are regular sightings here.
The currents can be strong here – especially at Ron's Point – so planning in essential. Fukui can also get quite busy, so it is best visited in the afternoon when there are less boats, and the light is better. Snorkelling is possible here, but only when there is little current, as the water movement can push towards the very shallow reef.
Another beautiful wall that is on the western wall of Bunaken. Mandolin shares a similar structure to Raymond Point, however it has less wire corals – but in exchange, there tends to be more fish.
There is a large resident school of midnight snappers, and large napoleon wrasse are regular visitors to the shallow reef. On the wall you will find enormous sponges, ancient sea fans, and some huge black coral trees. There are also many cracks and crevices that are usually hiding moray eels and large lobsters.
On the western shores of Bunaken you will find Raymond Point. This steep sloping wall has an unusual abundance of wire corals – many of which are home to wire coral shrimp and xeno crabs. There is also a large overhanging cave that is home to many large lobsters and crabs.
After swimming through the wire coral forest, you will encounter a more gentle slope with some large sandy patches – on which you can usually find some large whip rays.
The currents are usually gentle, however they can be strong on occasion. The beautiful reef top that extends the entire western wall of Bunaken makes this an equally fantastic spot for snorkelling as it is for diving.
large flat plateau at around ten metres.
Eagle rays and napoleon wrasses often pass by, and the slope is home to numerous critters such as flatworms and nudibranch. The currents can often be strong, and the visibility can be affected by the neighbouring mangroves, so pre-planning is a must before visiting.
Tanjung Parigi means 'Well Corner' in Indonesian, and the name is taken from the small village in the northern bay of Bunaken.
The site starts inside the bay where you will find a large sandy slope with patches of reef. On the slope you can find numerous interesting critters like squat lobsters, scorpionfish and jawfish. After the slope there is a large pinnacle which is often home to ghost pipefish and leaf scorpionfish , before turning into a vertical wall.
This is a good place to dive when the currents are too strong elsewhere, as the bay offers some protection. The visibility is often excellent, and a beautiful reef top makes this site as good for snorkelling as it is for diving.
On the north-eastern point of Bunaken, you will find Sachiko's Point. This steep slope is another 'must visit' site for both divers and snorkelers.
The sloping wall is home to numerous giant gorgonians, and the slope has lots of little crevices that are often housing different species of moray eel. Swimming along this slope will make you feel like you are in a 'fish soup' as there are thousands and thousands of red tooth trigger fish, and a huge resident school of black snapper.
This is one of the best sites to find bigger fish, with reef sharks and eagle rays being regular sightings in both the deeper and the shallower parts. The reef top extends far from the Bunaken shoreline, and has an extensive and pristine coral garden.
The currents can sometimes be strong, however they are usually just 'drift' currents and you will find shelter when reaching one of the corners.
The east face of Bunaken is one very long wall with an extremely beautiful coral garden. Because the wall is so long, it is broken up into four different dive sites; Bunaken Timur I, Pangalisang, Bunaken Timur II, and Cha-Cha.
The currents on this side of Bunaken are usually fairly mild, and the visibility is often excellent. The top of the reef is home to pristine coral gardens bursting with life and gradually slopes to around ten metres before dropping into a near vertical wall.
Here you can find thousands of reef fish playing around the corals , and large unicorn fish and needlefish can be found hanging around in the shallow waters. Schooling of long-jawed mackerel and fusiliers are common sightings, and there are also many turtles living here. The wall is home to numerous special critters such as pygmy seahorses, halimeda ghost pipefish and squat lobsters.
The gentle currents, crystal clear waters, and incredible coral coverage makes this a 'must do' site for snorkelling, especially in the morning when the sun's rays show the true beauty of the corals.
Meaning 'in front of the village' in Indonesian, Depan Kampung it on the south-east side of Bunaken, and sits directly in front of Bunaken village.
This sloping reef is a continuation of Lekuan, and is home to just as many turtles . Sharks, eagle rays and large tuna are relatively common sightings, especially below 20 metres, and on the slope you can find many critters.
Located just outside the resort, Siladen Jetty is often regarded as one of the best dive and snorkelling sites within Bunaken Marine Park. The shallow reefs are covered in pristine corals, and the deeper wall is encrusted with enormous sponges and gorgonians. Something that makes this site really special is the variety of anemone and anemonefish that can be found here, especially on the reef top.
Currents are usually a consistent drift, so expect to see lots of fish playing in the blue. If you keep a close eye on the wall, you might be rewarded with ghost pipefish and several less common nudibranch species . There are also numerous cracks and little caves that are sometimes hiding baby reef sharks.
Only a short walk from the resort, Siladen Jetty is the perfect destination for snorkelers who want to make their own schedule.
Siladen Timur translates as east of Siladen in Indonesian. Here you will find a large shallow reef with huge coral boulders before a gently sloping wall into the deep. On the slope you can find huge sea fans and large patches of soft corals.
Here you can expect to find a number of different nudibranch species, scorpionfish, lionfish and even a couple of turtles live here. On the slope you can find several flat sandy areas that can be hiding mantis shrimp and crocodile fish.
While Siladen Timor can sometimes get strong currents, however due to the shape of the wall, the currents will only ever be a simple drift, so you just need to sit back and watch the amazing marine life pass by.
Siladen Utara is very different to most of the sites throughout Bunaken Marine Park. Instead of the characteristic deep walls that Bunaken is known for, Siladen Utara is a gentle slope that goes as deep as 50 metres before dropping into the deep.
Currents rush over the slope, bringing lots of larger fish into the shallows. Schools of jacks, yellowfin tuna and bumphead parrotfish are common sighting here, and sometimes you can spot hunting sharks in the deeper parts of the slope. The slope itself has some beautiful patches of soft coral, but is mainly rocky reef. Keep a close eye on all the holes on the floor of the reef, as many reef octopus can be found hiding here.
Lying on the south western shores on Manado Tua, Bualo is an extremely interesting dive site that is rarely visited by other dive companies. Rather than being a straight wall, Bualo has many twists and turns, overhangs and small caves. It is best visited on a sunny day, as the sunlight will pierce the cracks in the wall and cast beautiful light patterns. The reef has huge amounts of soft corals, bubble corals housing orangutan crabs, and reef fish are plentiful.
Currents here tend to be mild, although they can occasionally get quite strong. The top of the reef makes this site fantastic for snorkelling, however the wind must be taken into consideration as Bualo is very exposed to the open ocean.
Negri is named after a small village on the eastern slopes of Manado Tua. This dive site is an exceptionally deep wall, and usually has the best visibility throughout Bunaken Marine Park. You can find one large corner where thousands of reef fish gather, and sometimes yellowfin tuna pass by. The wall is encrusted with enormous sponges that are often hiding giant frogfish  and scorpionfish.
The currents are usually fairly mild, and a beautiful reef top makes it an ideal location for snorkelling as well as diving.
Meaning "Coffee Corner" in Bahasa Indonesian, Tanjung Kopi is on the northern slopes of Manado Tua, and the site is named so because the village close by used to grow a lot of coffee.
This is considered as one of the best dive sites in Bunaken Marine Park, as here you can find two walls meeting and a large flat plateau that drops to around 30 metres. On the flat plateau, you will find breath taking corals and enormous sponges. The real action takes place on the corner where the walls meet, and you can see huge schools of jacks and batfish, and we often spot bigger species such as sharks, tuna or huge napoleon wrasse.
Tanjung Kopi can get fierce currents, including up and down water movement. Getting to tides right is crucial with this dive site, as too much current and it is impossible to dive, but too little and the larger fish stay deeper.
Watch a video about diving in Tanjung Kopi and Mandolin here
Wall in large steps, with alternating sandy areas, flat and very wide reef. This site is very exposed to waves and currents. The best chance to see Barracudas and Jackfish is with the high tide. You can find whip corals, soft coral, and sponges, massive coral in the shallow (Porites spp).
MARINE LIFE HIGHLIGHTS: A very large school of Blackfin Barracuda, big schools of jackfish, dogtooth tuna, eagle rays and sometimes sharks in the deeper parts. Triggerfish, schools of fusiliers and banner fish can also be spotted here.
A fantastic wreck dive on a 60 meter long Dutch cargo ship, sunk during second world war. She is lying in an upright position in the sand, with her shallowest point being 24 metres and her deepest point at 37 meters. After you come close to the No Deco Limit, you can slowly ascend to the reef close by, which is a really nice muck dive. Being an artificial reef, this wreck is totally covered with hard, soft coral and big sponges.
A school of Batfish and Barracudas can be found on the wreck structure, big giant puffer fish often sleep in the cargo holes.
Watch the video here of this great wreck dive.
Dive Sites on the Mainland
These sites offer world class muck diving, on slopes with a mix of corals and white sand. Due to the change of the seasonal winds, critters vary from period to period. When conditions are good, some dive sites can give you different varieties of frogfish (painted, clown, giant, etc.), ribbon eels, flamboyant cuttlefish, giant cuttlefish, nudibranchs, crabs, and even mimic and wunderpus octopuses.
If you wish to do muck or critter diving day trips we can organise dives in the black sands of Manado Bay. These sites offer world class muck diving, on slopes with a mix of corals and white sand. Due to the change of the seasonal winds, critters vary from period to period. On good condition, some dive sites can give you varieties of frogfish (painted, clown, giant, etc.), ribbon eels, flamboyant cuttlefish, giant cuttlefish, and even mimic and wunderpus octopus, nudibranchs, and crabs.
If it is your first time muck diving please read some tips 
We often organise day trips to the soft corals of Bangka island. This area has many different dive sites with different topography. Slopes, pinnacles, walls and sea mounts. Many of the dive sites have beautiful and very colourful soft corals.