SOCIAL RESPONSIBILITY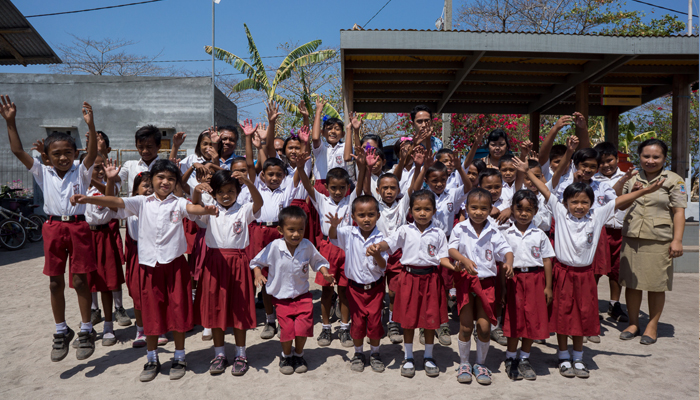 For us to operate as a business on Siladen Island, we believe it is our responsibility to maintain an open dialogue and have a good relationship with the inhabitants of Siladen, and do what we can to help improve the lives of those who so kindly allow us to operate here.
Siladen Island is home to roughly 300 people who once heavily relied on fishing as a source of income. Now, as commercial fishing is banned, the main employment on the island is through the tourism that Bunaken Marine Park has provided. Of those 300 people, approximately 35 are in the primary school age (6 – 11 years old), where they attend the Siladen school. Older children will attend school either on Bunaken, or in Manado.
Siladen Resort & Spa employs approximately 70 people from the local kampung (village) as full time members of staff, and we offer other villagers work when we are working on different projects in the resort and village. This means that one in three inhabitants receive a regular monthly salary, plus the benefits of social security payments; all according to Indonesian labour regulations. Employees are always given the opportunity to further their careers through on-the-job training; both work related, and other important areas, such as first aid.
We try our best to help improve the lives of the villagers by helping them with rubbish disposal, veterinary care for domestic and stray animals, as well as offering five hours a day of electricity, which is used by both private households and public use – such as the church and street lighting. Some years ago we helped an Australian/Indonesian doctor program to monitor the health conditions of the local community and building a water recovery system for the school.
Other building projects we have undertaken include helping build the local church, and helping rebuild the school. We also regularly help re-paint the school by supplying paint, materials, and staff members to help with the labour.
Other ongoing social projects:

We support children from the poorest families to help them go to school and get a proper education. Guest donations are used to buy books, uniforms, and other school supplies for the less fortunate families.
We hope to create a library/learning centre. With guest donations, we can buy books, games and materials to be put in the school for all local children to use.
We regularly host the children's choir, and each time they appear we pay a fee. These funds are used to buy different things for the children and the local community.
As well as the children's choir, we also support the ladies choir – known as the Ibu Ibu choir. We help them buy uniforms, and provide transport so they can perform on other islands.
Each year, we buy updated school workbooks and help the school with regular maintenance.
We welcome all donations to help us continue with these social commitments programs, and help us develop further projects. If you would like to donate, please contact a member of management.