North Sulawesi is known throughout the diving community as a world class diving and underwater photography destination, offering those who visit the region a seemingly endless supply of beautiful dive sites filled with all kinds of bizarre critters. Bunaken Marine Park is frequently regarded as one of the best national parks in Indonesia, but because of the enthusiasm of those who dive the park, it is easy to forget there is another way to enjoy the astonishing scenery that lies below, and while almost all divers are nature lovers, not all nature lovers are divers. Some people have certain apprehensions about the sport, or maybe a medical reason prevents them from taking part, and not everyone who tries it actually enjoys it.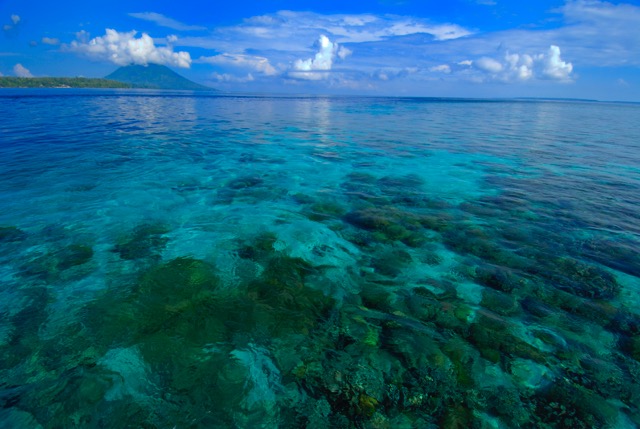 Bunaken Marine Park is famous for its bottomless walls, clear waters and variety of marine life. While the walls go down extremely deep, they also rise as shallow as 1 metre with the right tides. Combine that with the healthy coral coverage, marine life and the clarity of the water, and you have the perfect conditions for snorkelling. Snorkelling actually has many benefits over diving. The equipment is very minimal, portable, and doesn't break the bank. You also don't need to wait for surface times to be over before you can jump back in the water, and you don't need to wait for boats to take you to suitable places, you can just walk off the shore.
Discovering the Beauty of Bunaken Marine Park: Snorkeling Adventures
We get many divers stay with us at Siladen Resort & Spa, but we are also visited by a number of avid snorkelers who want to witness the beauty of Bunaken Marine Park. The island of Siladen is surrounded by a shallow reef that eventually drops off into deeper water. Directly in front of the resort is a large sea grass meadow, a marine environment that is equally as important as coral reefs are, and one that also hosts a number of interesting marine encounters. Here we can find juvenile fish hiding amongst the grass blades for protection, and in the later afternoon you can see many blue spotted stingrays, moray eels and even reef octopus. While it is very rare, it is also possible to observe dugongs grazing on the sea grass when the tides are high.
Exploring the Vibrant Coral Reefs at the Local Jetty
To see the fantastic corals, the best place to go is into the village to the local jetty. Here the reef drops away much quicker than in front of the resort, so it is much easier to get to. Here we have incredible, pristine hard and soft corals, sea fans, sponges, and a wide variety of anemones, each one complete with a family of clownfish. Darting through the coral reef are fish of all shapes and colours, including many different species of butterflyfish, angelfish, boxfish and damselfish. Looking closer you may also spot some smaller crabs, shrimps or the slugs colourful cousin, nudibranchs. If you are feeling brave, swimming out over the reef edge will reward you with schools of wide mouth mackerel, blue stripe fusilier, red tooth triggerfish, and on occasion a group of squid may pass by.
Swimming with Turtles: Snorkeling Adventures in Bunaken Marine Park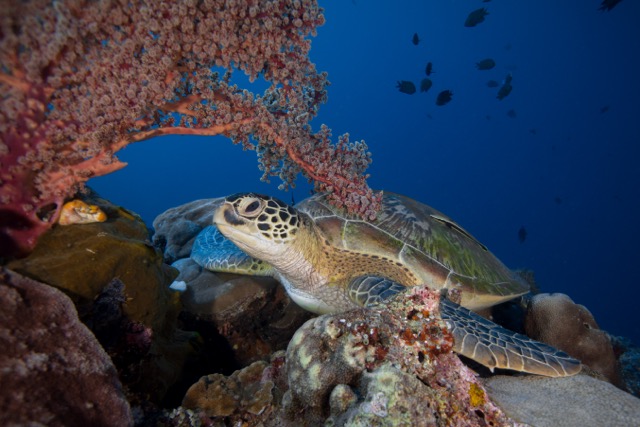 Bunaken has an extremely healthy population of Green and Hawksbill turtles, and while we do get them around Siladen, around Bunaken we almost guarantee to see them. Some sites we can spot as many as 20 in an hour, and luckily for snorkelers, these majestic creatures need to come to the surface every now and then to breathe. We have numerous dive boats heading out every morning and afternoon, so if you want to snorkel elsewhere in the park, you just need to jump on the boat! Much like Siladen, the other islands have a shallow reef top, so almost everywhere that is suitable for diving in Bunaken Marine Park is just as suitable for snorkelling. Any time you snorkel from the boat you will also be provided a local guide who can help show you some of the amazing marine life, as well as communicate with the boat so when you can get out when you are ready.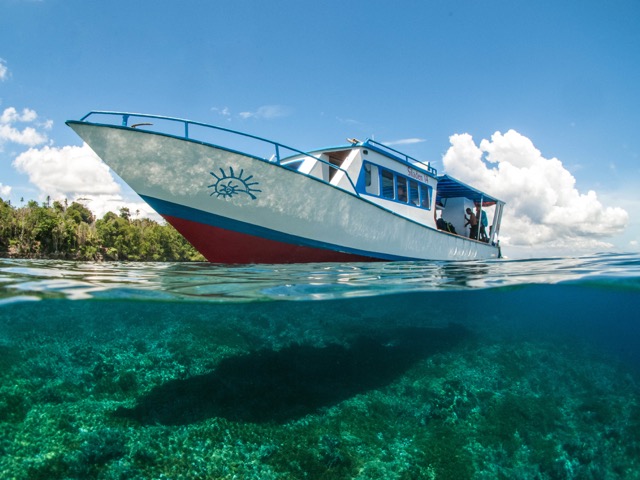 Embrace the Night: Unveiling Nocturnal Wonders through Night Snorkeling
As the sun sets, the reef changes dramatically. Most of the fish go to sleep, but many other creatures come out in their place. Once darkness sets in, you can head out on one of the boats armed with a local guide and a high powered underwater flashlight for a spot of night snorkelling. The reef evolves into something completely different from the day time. Giant sponge crabs can be seen stomping around the reef like King Kong, cuttlefish hover over the corals dazzling their prey with their hypnotic colour changing chromatophores, numerous octopus species crawl along the substrate looking for crabs to snack on, and if you are lucky you can see the Spanish Dancer, the largest known species of Nudibranch, blood red in colour. Night snorkelling may not be for everyone, but it is something you should try at least once, because who knows, maybe you will love it!
So if you are not a diver, but a nature lover who wants to see the beauty of the underwater world, Bunaken Marine Park may be the perfect destination you were looking for. At Siladen Resort & Spa we have full snorkelling equipment available to rent, as well as underwater camera systems so you can show off your marine encounters to friends and family back home.