After staging the annual Sea Life Festivals in Australia, Indonesia, and the Maldives from 1997 to 2002, OceanNEnvironment Ltd conceptualised and launched "Celebrate the Sea Festival 2002" in Singapore, to promote greater awareness of the beauty and the importance of our seas to a wider audience. Since most life on Earth is aquatic, in terms of both diversity and biomass, it is only logical to generate greater interest in our ocean, to appreciate each and every living creature that makes up the vast biospheres that effectively govern our existence, climate, weather and all mechanisms that make this watery planet a hospitable place. Celebrate the Sea Festival promotes appreciation and greater awareness of the beauty of our ocean.
Most of us do not pay attention to the blue heart of our planet that keeps us all alive. The oxygen that sustain life, EVERY SECOND BREATHE WE TAKE, COMES FROM THE OCEAN. If we knew the ocean was the heart of our planet, we would certainly pay more attention to its well-being. The Sea is the cradle of our existence, the source and support for all life on Earth. Occupying nearly 70.98% of our planet's surface, the ocean provides 99% of the Earth's living space — the largest space in our universe known to be inhabited by living organisms.
The ocean acts as both heater and air-conditioner for our planet. Ocean currents move warm water to cold areas and likewise from cold to warm. It absorbs heat in summer and releases it in winter. Marine life consumes huge amounts of carbon dioxide, and much more oxygen is produced and released through oceanic photosynthesis than by all the earth's terrestrial plants and forests combined. Without the sea, there could be no life on this planet. It is only befitting we Celebrate the Sea annually.
The first Celebrate the Sea was launched in 2002 at ADEX (Asia Dive Expo) with presentations at the Hilton Hotel. The Award Gala dinner was staged at the Raffles Mariner. Keynote speakers were David Doubilet and Stan Waterman. In 2003, the festival was staged in Kuala Lumpur and the keynote
"No water, no life.
No blue, no green."
Sylvia Earle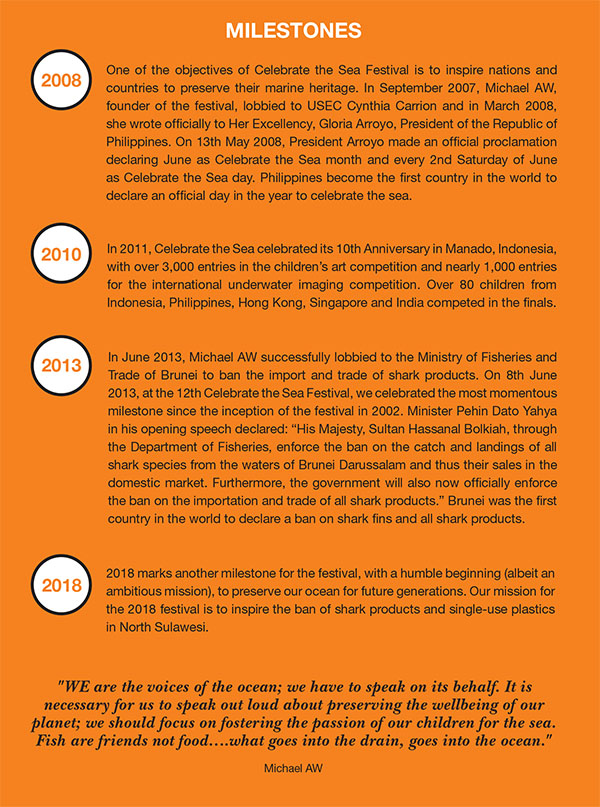 SPEAKERS
Dr. Sylvia Earle – 'Her Deepness'


Howard Shaw


Michael AW — Founder of Festival


Craig A. Leeson


Kristin Hoffmann


Alex Rose


Matty Smith


Peter Lightowler


Jayne Jenkins


Sarah-Jo Lobwein