Bunaken Marine Park is world famous for having arguably some of the world's best wall diving, with the islands of Bunaken, Manado Tua and Siladen receiving most of the fame, due to their deep drop offs, crystal clear waters and countless species. What many people do not realise however, is that Bunaken Marine Park is divided into two sections; Bunaken North, which comprises of the five islands plus the Molas-Wori coastline, and Bunaken South, which is found on the Arakan-Wawontulap coastline (known as the Manado Bay area). Unlike the north section of the park, the southern section is strictly located on the Sulawesi coastline, and is dominated by mud flats, black sand beaches, and an extensive mangrove system, offering what many say is some of the best muck diving in the world. 

We have been running regular day trips to Manado Bay for many years now, and the trip became easier and more comfortable last year with the arrival of our flag ship Siladen 12.
Enhancing Comfort for Memorable Dive Trips
Although with Siladen 12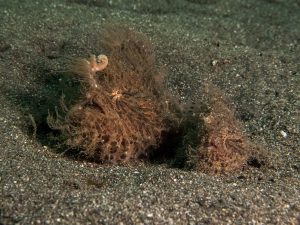 the trip is now faster, it still takes nearly 1 ½ hours to the first site, so we always make 3 dives, and take lunch on board with us. We leave the resort at the usual dive schedule dive of 08:00, and we can expect to return at around 16:30. 

On the trip there are a number of dive sites we can visit, ranging from true black sand muck diving packed full of frogfish and octopuses, seagrass meadows with a chance of a grazing dugong, to sloping walls with beautiful corals and numerous nudibranchs.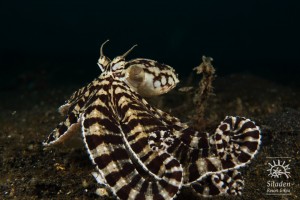 A Diver's Delight: Bizarre Critters and Rare Sightings
As we have an almost infinite supply of spectacular corals here on Siladen, we tend to head more to the black sands, where we are greeted by a multitude of bizarre and outlandish critters. Just like terrestrial creatures, the critters we find underwater are seasonal, so every time we return there are small differences. 

Last week we had possibly one of our best ever trips to the Manado Bay area. Over the three dives we spotted the usual suspects such as coconut octopus, long armed octopus, cuttlefish, warty frogfish, stonefish, and ghost pipe fish galore. However on the last dive of the day, we descended to the black sand only to instantly find a pair of hairy frogfish, and by the end of the dive we had spotted another three. To make this even more special, one of these hairy fellas was black, something so rare that many believe it can only be observed in the Lembeh Straits. On the same dive we also found a pair of Ambon scorpion fish, not an especially rare critter but uncommon in Bunaken Marine Park, and strikingly beautiful.
Explore the Wonders of Manado Bay: Book Your Adventure Now
If you would like to discover the wonders of Manado Bay on your next visit, we run trips almost every week and we only need a minimum of four divers. Should you wish to book a trip in advance, or you would like other information relating to this trip, or any of our other day trips, please don't hesitate to e-mail us at [email protected]