We have great news from Indonesia and Siladen Resort & Spa! Are you missing scuba diving and snorkelling in beautiful Bunaken National Park? We are delighted to let you know, you can plan your next vacation here now! It seems, finally, Indonesia is opening up!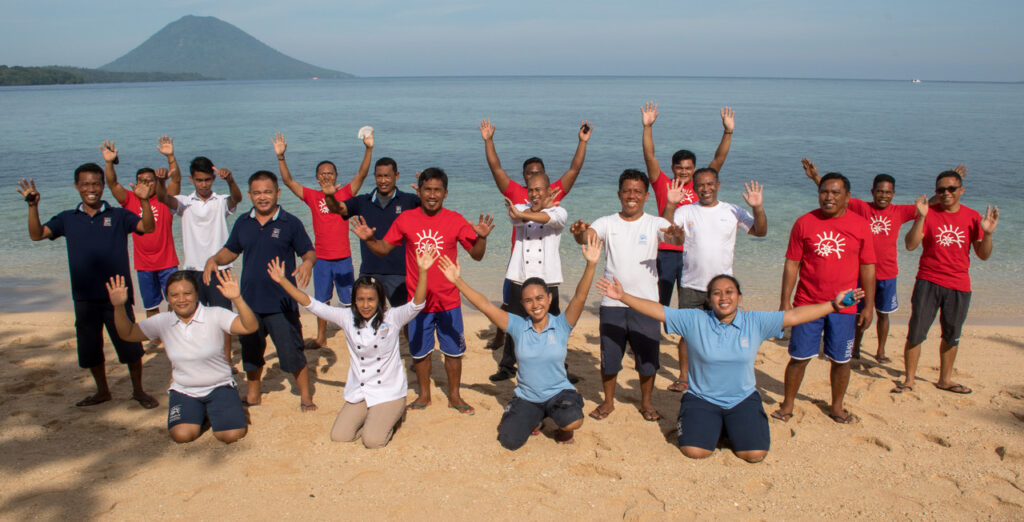 Our team at Siladen Resort & Spa are all well and healthy. All staff have had both the Covid vaccinations and booster shots (Moderna). We were delighted to reopen on January 5th, if only, for the time being, for quarantine and local guests. With all the renovations and improvements over the last two years, the resort is now looking better than ever and waiting for you to arrive.
The resort has been granted approval as a quarantine "bubble" resort, due to our remote location. This means guests quarantining with us can dive, snorkel and swim from day one! At the end of your quarantine you will complete a PCR test at the resort, and once a negative result is achieved, you can not only keep diving, but will also be able to go on excursions and enjoy our wonderful Spa.
For now the quarantine requirements are:
– Guests with only 1 vaccine need to quarantine for 7 nights
– Guests with 2 vaccines need to quarantine for 5 nights
– Guests with booster (3 vaccines) need to quarantine for 3 nights
Children will need to quarantine for the same amount of nights as their parents regardless of whether they are vaccinated or not.
Guests travelling to quarantine in the Bunaken area must arrive on the Scoot Airlines (subsidiary of Singapore Airlines) flight from Singapore. Currently, these flights operate every Wednesday and Friday, however, we expect additional days will be added once there are more passengers wanting to fly this route. The Scoot flight can be purchased on Singapore airlines website as part of an initial ticket.
There are also daily direct flights from Manado to Sorong. If you are planning a vacation in Raja Ampat, and enter Indonesia via Manado, why not quarantine with us, whilst enjoying diving and snorkeling, and then move on to Sorong afterwards.
We are optimistic that, from April 1st onwards, the Government will drop the quarantine requirement for vaccinated travellers, so you will be able to enjoy Siladen Resort & Spa for as long as you wish, with no restrictions. We will be sure to inform every one of our valued guests once this happens.
For the moment, it is still necessary to obtain a specific visa in advance. Hopefully, it won't be too long before this is also dropped and the normal visa requirements are resumed. We are happy to offer this specific visa to all new bookings of at least 7 nights with us. Please note this offer cannot be combined with other special offers. For us to arrange this specific visa for you, we just require you to send the necessary documents to us and we will take care of it for you.
Please contact us to plan your next vacation now 🙂 [email protected]