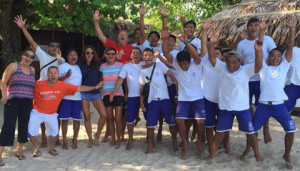 Thank you to JT and Ali for this wonderful video of their recent stay with us.
6 amazing days of diving in Bunaken National Marine Park, the video has many wonderful turtles and all the different fish and colourful corals.
The music in this video is from Ryan Montbleau Band; 75 and Sunny, this band played in JT and Alli's wedding and so the song is quite meaningful to them.
"Six days of diving in Bunaken Marine Park while staying at Siladen Resort and Spa in Indonesia. Incredible diving and a wonderful vacation." – JT Krohe with Alison Edie-Krohe
We are happy they had such a wonderful late honeymoon and we look forward to welcome them back to Siladen.