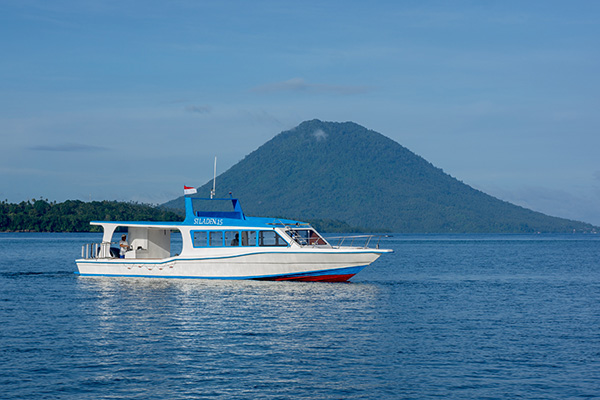 What better way to celebrate Christmas at a dive resort than to unwrap the ultimate Christmas present – a new boat! That's right, the long wait is over and Siladen 15 has finally made her maiden voyage to Siladen.
We have been steadily upgrading our boat fleet since September 2015, when our first fibreglass boat, Siladen 12, arrived. Just one year later, we were ready to launch Siladen 14 – almost a twin of Siladen 12, only with small redesigns here and there to make her more spacious than her predecessor.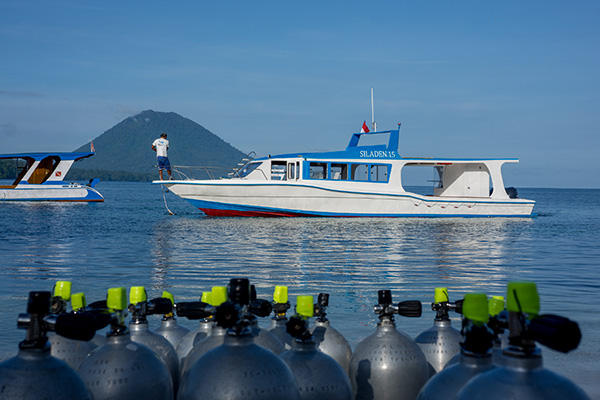 Siladen 15 has quite a different design to 12 and 14 – appearing more like one of our wooden boats,  but with all the commodities of the fibreglass ones. Like all of our dive boats, she is fitted with all of the expected essentials – a toilet, safety equipment, ample space for up to 12 divers, and not one, but two camera rinse tanks! Like our other two fibreglass boats, she is also fitted with a shower.
That is really where the comparison ends.
Our old wooden boats operate with three 50 horse power engines, which is fine for visiting the closer dive sites, however it did limit our access to the further away sites, and it made visiting areas like Bangka almost impossible. When Siladen 12 arrived with her twin 100 horse power engines, there was no dive site too far, and even guest transfers between Siladen Resort and Lembeh Strait became a possibility.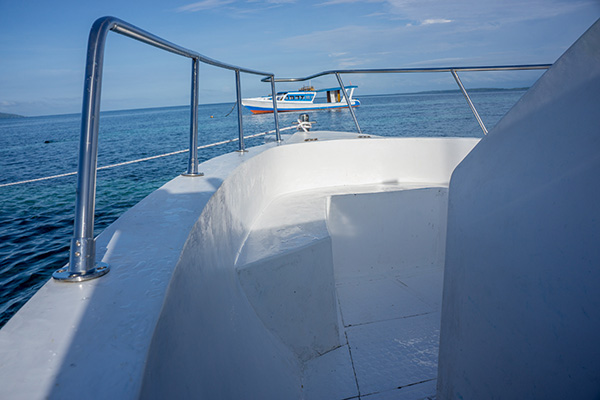 Siladen 15 trumps all of our other boats when it comes to power, and you would be hard pressed to find a more powerful one in the Manado area. Her 15 metre hull is fitted with twin 200 horse power engines, which gives her an incredible speed of up to 30 knots – or 56 kilometres per hour! Although we don't think we are quite ready to offer day trips to the Philippines, it's defiantly a step in the right direction. Another thing we overlooked last time was GPS, which we added separately as an afterthought. This time we learnt from our previous mistakes and fitted her with an integrated GPS system, which makes it not only safer, but it also makes it easier to find less visited dive sites.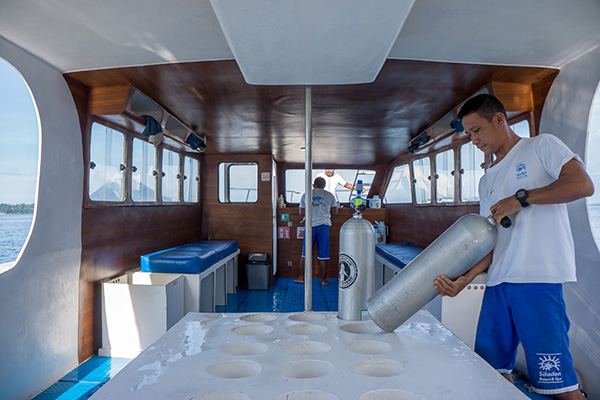 We celebrated her arrival by planning a day trip to the fantastic muck diving in Manado Bay, although her speed took everyone by surprise and we had arrived at the furthest away dive site before anyone (dive guides included) had even started thinking about getting into their wetsuits.
With six boats at our disposal, it is extremely unlikely that we will ever run out of boat space again, and now we can finally offer larger groups the option of making full day dive trips together, as well as transferring larger groups to Lembeh Strait.
The only downside of her arrival, is that Siladen 14 has been dethroned as our flagship, but we're sure she will get over it.