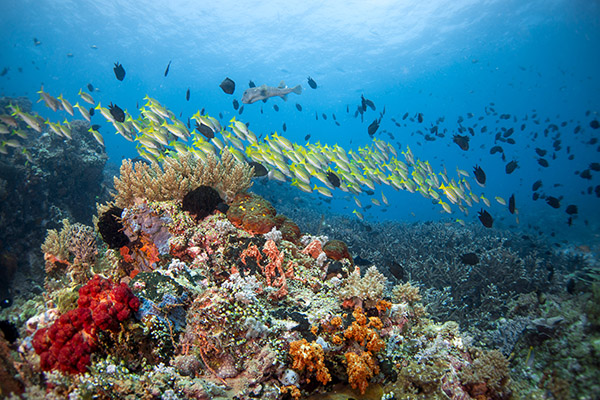 North Sulawesi has an incredibly varied underwater world. Many guests who visit the region will break their vacation into several parts, giving them the opportunity to experience all the fantastic diving and snorkelling the area has to offer.
The most common combination is Bunaken Marine Park and Lembeh, allowing them to see the world class reefs we have so close to Siladen, as well as what is arguably the worlds best muck diving in the Lembeh Strait.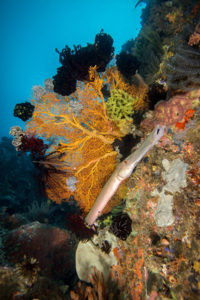 These are not the only spots worth visiting in North Sulawesi. Both Manado Bay and Bangka are incredible diving locations, and should not be missed on your Indonesian adventure.
Bangka is the name of an island chain just of the northern most point of North Sulawesi. The main islands in the chain are Bangka, Ganga, and Talise, plus there are several smaller islets. Bangka offers spectacular, varied diving that can keep all levels of divers and photographers interested.
Since the introduction of Siladen 12 (the first of our 'fast boats') in 2015, the full day diving trip in Bangka has been one of most popular diving excursions. We did offer the trip previously, however the heavier, wooden boats took too long to reach the island chain, so it was a trip we never really recommended. With one of our fast boats and the right sea and weather conditions, we can reach the first dive site in under one and a half hours.
The Bangka day trip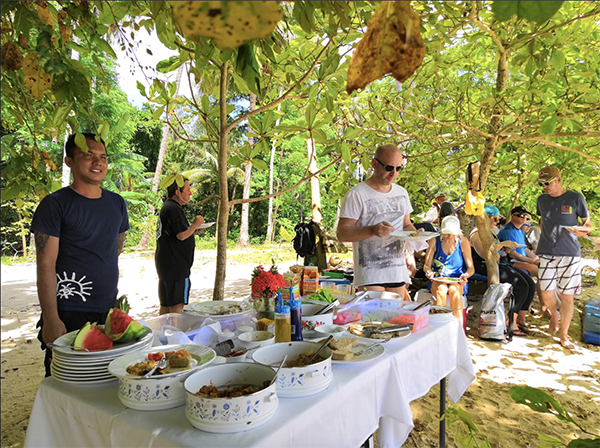 We depart from Siladen at 07:30, slightly earlier than our usual departure time (don't worry, there will still be lots of time to get a good breakfast), packing enough equipment with us to complete three dives, plus some spare equipment — just in case.
The ride itself is beautiful. We follow the North Sulawesi coastline north east, heading towards the large island Talise, which is visible from Bunaken Marine Park on a clear day. En route, it is not uncommon to pass a pod of dolphins or spot the occasional marlin leaping out of the water.
If the sea is flat and surface visibility is good, we will usually reach the first dive site by just before 09:00, and after a briefing and staggering the entry times, all divers are normally in the water by 09:15.
We still follow the same rule (one hour) regarding surface intervals, so the second dive usually begins just before noon. For the second dive, we always try to plan the dive site that is located next to a picturesque beach where we can park the boat. While you are enjoying seeing the amazing dive sites, one of the crew members, along with a member of our kitchen team are busy preparing a barbecue and setting up your lunch — although this can be dependant on the weather.
To give ourselves time to digest and maybe take a little bit of a rest, we usually allow for a minimum of one and a half hours between the second and the third dive. We aim to be in the water for the third dive by around 15:00 at the latest, so we can make the trip back in the daylight.
We usually get back to the resort at around 17:30, meaning you still have time to grab a drink from the bar and watch the beautiful sunset over Manado Tua, or if you prefer, take a nap before dinner.
Bangka dive sites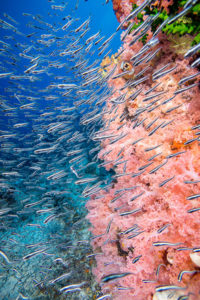 The diving around Bangka is very different to the diving in Bunaken Marine Park. The sea bed is much shallower, allowing for gentle slopes rather than dramatic walls.
One particularly interesting aspect of Bangka is that some of the dive sites have hot springs — where you can see the hot water bubbling from the sand below. Be careful as the water is hot. Not so much that passing over it will instantly burn you, but hot enough that staying in it for too long could cause minor burns.
Generally speaking, the water is not as clear as Bunaken Marine Park, with an average visibility of between 15-25 metres depending on the dive site. This doesn't matter too much though, as the diving around Bangka mainly focusses on critter hunting.
Below is a list of some of the main dive sites we try to visit on our Bangka day trips. This list is not by any means exhaustive, however these are our favourites, and weather permitting, the ones we try to dive and snorkel.
Check out this video we recently made documenting the amazing marine life that you can spot on one of our Bangka excursions.
Sahaung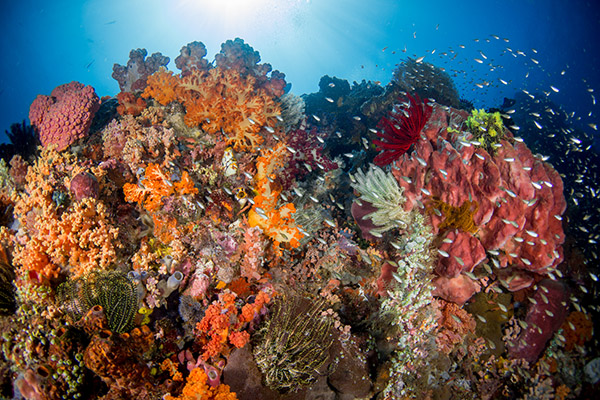 Sahaung is the most iconic dive site of the Bangka archipelago. It is on the southern tip of Bangka, and it is famed for its stunning soft corals and incredible rock formations — somewhat reminiscent of an underwater Giant's Causeway. The site is clearly visible above the water, as large rocks break the surface and the dominant eastern swell causes waves to crash over the rocks.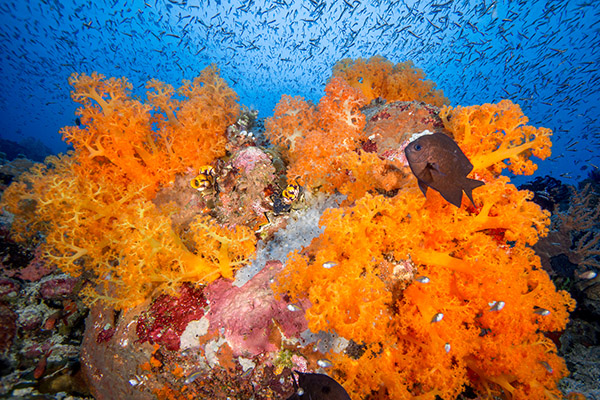 Sahaung usually has a noticeable surge underwater (sometimes two metres each way) so it is important to keep your distance from the reef until you are in a more sheltered area. The soft corals are pristine, and large gorgonian sea fans are home to many pygmy seahorses. As we begin heading shallower over the slope, keep an eye out for coral guard crabs in staghorn corals, and there are many mantis shrimp burrowing in the sand.
This is also a dive site where we might encounter some larger fish too. Black tip reef sharks are common sightings (especially by snorkellers), and schools of bumphead parrot fish often charge through the dive site, leaving trails of sand behind them.
Batu Mandi
Batu Mandi (which translates to "Shower Rock"), is on the last corner of the North Sulawesi mainland before Lembeh becomes visible. As far as scenery goes, you will struggle to find a more beautiful spot, which is why we try to park the boat there for lunch. The beach is deserted with forest reaching all the way to the shoreline.
The dive is characterised by a mini wall which drops to around 15 metres, before turning into a white sandy slope that has pinnacles rising from the seabed.
Batu Mandi is all about critter hunting. Our main quest is to find giant frogfish, which can be found here is several colour variations. Aside from the expected reef fish, flatworms and nudibranchs are relatively common sightings here.
Busa Bora
Situated on the south coast of Bankga, Busa Bora is a slope with a mixture of black and white sand and patch reef. The visibility here tends to be the lowest of all the Bangka dive sites, so we don't usually visit here if we have snorkellers on board.
Busa Bora has a muck diving feel to it, as we spend much of the time looking around the patches of reef searching for the hidden macro life. The not so macro giant frogfish is a common sighting here, as are mantis shrimp, crocodile fish, and stone fish — all of which use the sand to try and conceal themselves.
We also tend to find a few cephalopods here too, with broad club cuttlefish and reef octopus being the most common sightings. The bright neon Nembrotha nudibranchs can also be found in unusually high numbers here too.
Tanjung Husi
Tanjung Husi is a fantastic site for both diving and snorkelling. It is characterised by a gentle coral slope to around eight metres, before turning into a wall that drops to around 25 to 30 metres. It can get strong currents, so we cannot dive Tanjung Husi every time we visit.
Once again, giant frogfish are common sightings here, but we often spend our time looking for the amazing and unusual nudibranchs than can be found hiding from the current. Leaf scorpionfish and ribbon eels are also commonly found living in the reef, and the currents that pass make this one of the best spots around Bangka for seeing larger, pelagic species. White tip reef sharks sometimes pass below, and tuna can frequently be spotted zooming by in the blue.
How to dive Bangka
We run regular trips to Bangka, and we don't have a set day for the trips either. We just need a minimum of six divers to send a trip out.
If you are interested in joining a Bangka day trip, you just need to let the dive centre management know and we will ask other guests if they want to join — it's never difficult to find enough people who want to visit.
Diving Bangka on a Lembeh transfer
Since the arrival of our fast boats, we have been running boat transfers between Siladen Resort & Spa and the famous Lembeh Strait.
It takes around two and half hours (non stop) to make the trip, and on route, we stop in Bangka and do two dives — sadly we can only fit two dives in, as for the safety of the boat and crew, they need to be close to Siladen by nightfall.
The boat transfer to Lembeh has proven to be very popular, as that way guests don't lose a day of their vacation transferring between resorts. Most importantly, they don't lose a day of diving.
If you are interested in booking a boat transfer from Siladen to Lembeh, we just need a couple of days warning to get everything planned. If you are checking in from Lembeh to Siladen and want to do it by boat, we can arrange that too — just contact us at [email protected] so we can get everything arranged for you.