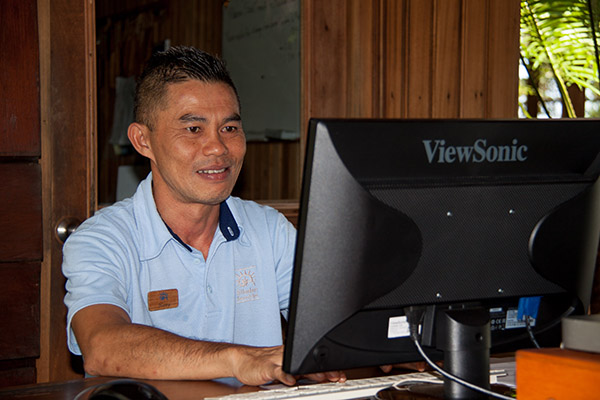 For Aprils entry of meet the staff, we will introduce you to another of our staff members who has been with us for many years. He is very popular among our guests for his ability to speak German, which is rare in Indonesia. We are of course talking about Herry, our front office tour specialist.
Herry Dumingan was born on the island of Siau, which is still part of North Sulawesi, but it is far north of the Sulawesi mainland — sitting roughly a third of the way between Sulawesi and the Philippines. He and his family moved to Manado due to the eruption of Karangetang, the most active volcano on Siau.
In senior high school, Herry took German classes, and it turned out he was a natural. He continued his German studies at the University of Samratulangi, Manado, before beginning his long lasting and varied career in the tourism industry.
Once he left university, he began working as a tour guide for a travel company in Manado. North Sulawesi receives an enormous amount of German visitors, many of whom don't speak English, so as you can imagine, someone with his language skills could very easily find work in the tourism industry.
After working with this tour company, he wanted to continue in the same line of work, but in a more intimate setting — building a closer relationship with the guests he was guiding. Before arriving at Siladen, Herry worked at two other diver resorts based on the North Sulawesi mainland — Minahasa Langoon Dive Club, and Tasik Ria Dive Resort & Spa. While working here, he was mainly based in the front office, but would also guide guests on tours around North Sulawesi.
Herry began his career with Siladen Resort & Spa in August 2008 when he joined our front desk team. His day to day roles are working on the front desk and picking up and dropping off guests at Manado airport. He will also guide guests when they want to take part in the Tangkoko forest reserve tour, Manado city tour, or Minihasa highland tour. As we have many German speaking guests, Herry has proved to be an enormously valuable asset for offering guests the best possible tour experiences.
He has been working with us for 11 years, and as the only Indonesian member of staff who can speak German, he has established close relationships with many of our German speaking guests.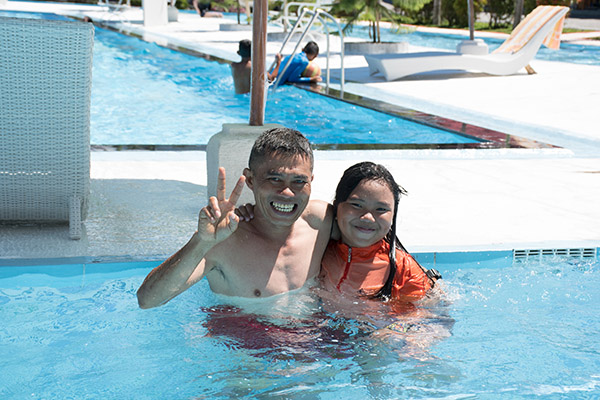 Herry lives with his wife (an elementary school teacher) and three children (one son, two daughters) in a village outside Manado city — so on his days off he always goes home to spend time with them. He is a very active person, so he likes to spend his free time jogging, swimming, or just exploring new places.
I like to work at Siladen Resort because I like to be the best I can, and that is only possible by working for the best. For me, Siladen Resort is the best!

Herry Dumingan