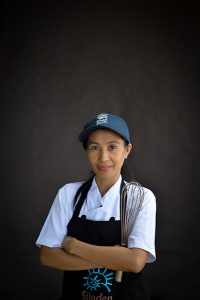 For January's entry of meet the staff, we will be introducing you to another of our very long term staff members, Ibu Finni, our chief pastry chef. Due to the nature of her work, you may have never met her, however her delicious creations are defiantly well known as she is also partly responsible for why your pants don't quite fit when you get home after your vacation.
Born in August 1978 in Tongkaina – a village near Manado, Ibu Finni Pangalila is one of the few staff members at Siladen Resort & Spa who has always had a clearly laid out career plan. She has been passionate about patisserie work since she was a teenager and chose to learn it as a field study in SMK 3 Manado – her vocational high school.
She first worked in the catering industry in Fujesera Restaurant in Manado, where she worked as a waitress for eight months, before completing a work experience internship in a pastry kitchen. It was after this – in 2003 – that she was hired by Siladen Resort to work in the kitchen. Although she was originally placed in the pastry kitchen, she would initially work in the main kitchen too, however after she received additional training from the Lembeh Resort pastry chef, she was given overall responsibility of the pastry kitchen.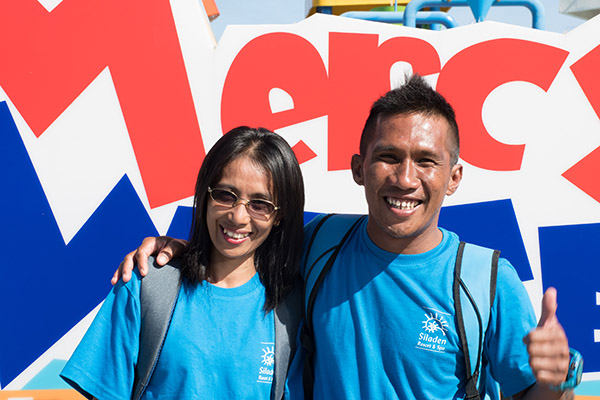 Finni has lived on Siladen since 2003 when she first started working here. It was in 2004 that she married a local from the Siladen Kampung, a friendly man called Noldy Tususang, who you may know if you have stayed with us before as he is one of our most experienced and popular dive guides. We are happy and consider ourselves extremely lucky to have such a lovely and dedicated couple working with us.
"I love living here on this beautiful island with my husband, and working here following my passion, baking. The staff are friendly, and the work environment is nice.
Giving my best service is not only to satisfy the guests, but myself as well. Only by giving our all can we see our true potential."
Together they have a house on Siladen, as well as one in Manado. During her time off, Finni mostly enjoys resting at home or spending time with her relatives in Manado. She is also very active in the church and local community activities, such as the chruch choir. She will also spend much of her time off following her true passion – baking – with the created products being highly sought after in the village.