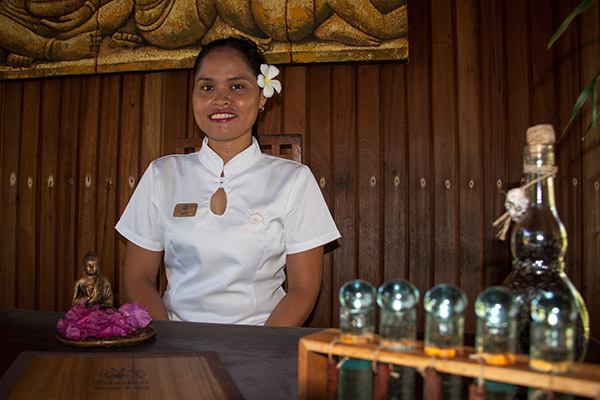 We know that most people come to Siladen Resort & Spa to experience the exquisite diving and snorkelling Bunaken Marine Park has to offer, however we also pride ourselves in offering guests the most relaxing and enjoyable experience possible. To offer maximum relaxation, we focus heavily on providing the best spa experience possible, and to offer the best treatments, we need the best therapists. So this month, we will be introducing the head of our spa department, Indri Saladi.
Indri was born and raised in the village of Mantehage on the island of Mantehage – the largest island in Bunaken Marine Park by land area, and an island we frequently visit to dive. She has an extensive history working in the dive tourism industry. Her first job in this sector was with Cocotinos Resort – on the North Sulawesi mainland. There her job was to issue rental dive equipment to guests, which she did for a year before being transferred to the spa department and began her career in spa therapy treatments. Over the years, she has worked in many resorts around North Sulawesi, and has even spent time working on liveaboards as a therapist, however, naturally there is less spa work on a liveaboard, so other duties involved housekeeping and restaurant work.
Her last liveaboard position was on the Blue Manta, and after leaving she decided she wanted to be closer to home. She soon after became the spa supervisor at Bunaken Oasis Resort, on the neighbouring island of Bunaken. After a few months working there, the position of spa supervisor opened up at Siladen Resort & Spa, and she thought that her experience in the industry would make her a valuable asset – and she was right. She began working with us in March 2017, and ever since then she has been an integral part of our spa, and someone who all the other staff enjoy working with – not to mention her treatments are extremely popular among guests.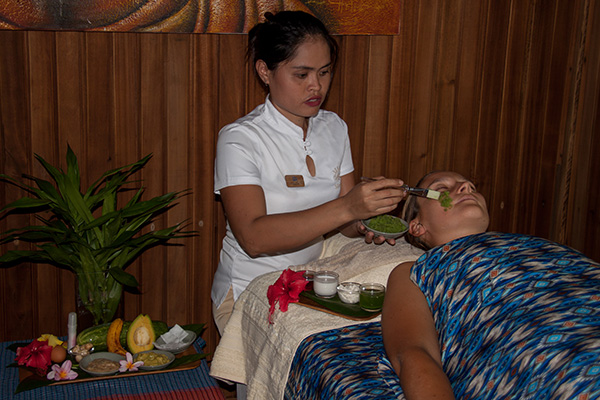 Being a spa supervisor was not something she thought about doing since childhood, however after receiving her first spa training at Cocotinos Resost, she decided she enjoyed the work very much and wanted to learn as much as possible about the industry. Indonesia is famous for its spa treatments – Bali in particular – so she cherishes the opportunity to learn more every time our Balinese spa trainer, Dewi, comes to visit and instil her knowledge and wisdom of specialist treatments.
Being based on Siladen means that she can quickly and easily visit her family. She is the youngest of two children, and her brother – who is now married – lives in Manado, while her parents still live in Mantehage village. Being so close, she visits them every time there is a big event – such as birthdays, Easter, or Christmas.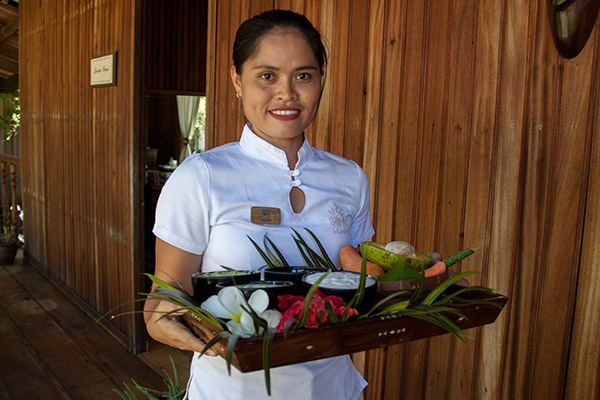 During her working week she stays in the staff accommodation on Siladen, however she has a place to live in Manado, and on her days off she will go home to see whatever new movies may be showing in the cinema, and to meet up with friends or her brother and his family.
"I love working at Siladen Resort because I love the quietness of the island, and the people who work here have made me feel very welcome and comfortable. By having this feeling of comfort, I feel it is very easy to share that comfort with guests during their treatments, and then everyone is happy"
Indri Saladi