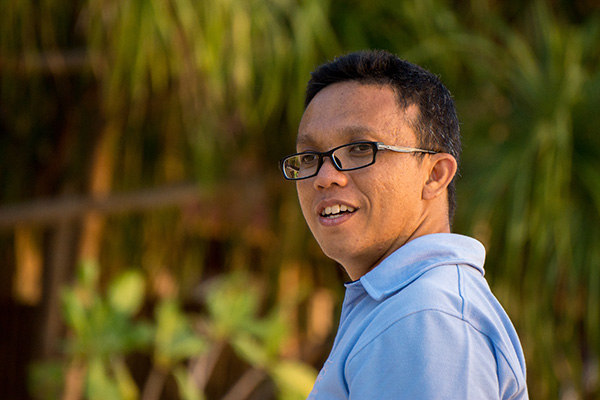 Today we will be celebrating one of our most well known members of staff. You may have first met him when he came to pick you up from the airport with a big smile, or maybe you communicated via e-mail when you were still in the booking stages of your dive vacation. If you have stayed with us before, you will have definitely had a few conversations with him, because he loves to meet and get to know every single person who walks through the doors of Siladen Resort & Spa – we are of course, speaking about Jerrie, our front office supervisor and resident comedian.
Originally from the Minahassa highlands – the volcanic highland region of North Sulawesi – Jerrie has been living on Siladen since he started working with us many years ago.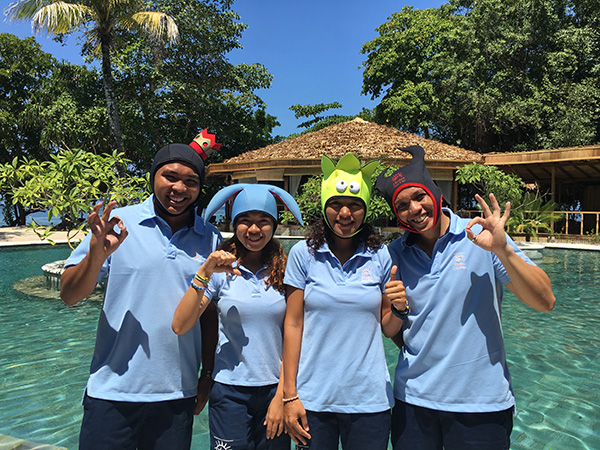 Before working at Siladen, Jerrie was employed by Barracuda Dive Centre on the North Sulawesi mainland, where his role included anything from serving tables, cleaning rooms, controlling guest transfers, and even landscaping. His journey with Siladen Resort & Spa began in April 2009, when his cousin (who at the time was also working here) informed him of a full time position available on the front desk.
Since then, he has established a great rapport with guests and staff alike, and is one of the most recognisable faces of the resort. Because of his hard work, great attitude, and good guest relations, he rose through the ranks to become a reservation agent, before recently being promoted to Front Office supervisor – the department head for anything related to reception, guest relations, and bookings.
Having worked for several years at various dive resorts, Jerrie blew his first bubbles back in 2007, however it wasn't until 2011 that he got certified as a PADI Open Water Diver. Since then he has gotten his Advanced Open Water and tries to go diving as often as he can with the guests (although finding time is often quite difficult as he can described as a workaholic) .
As a child he never imagined he would be a department head in a busy dive centre, but Jerrie has taken to the diving industry well, and loves to meet people from all over the world and hear about their experiences.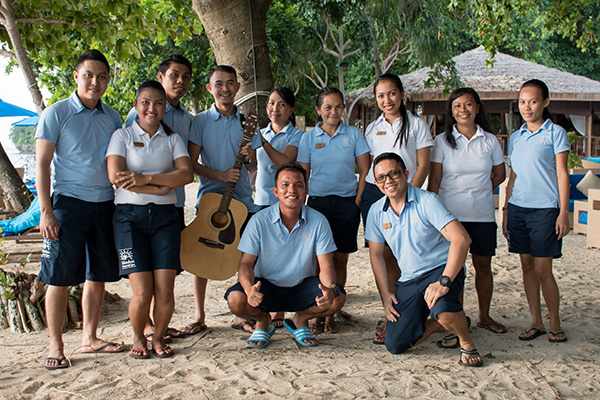 Prying Jerrie away from the front office can be a challenge sometimes, but when he is off, he likes to spend his time reading, listening to music, or playing the occasional video game. He enjoys playing sports, and is always ready to pick up the volley ball whenever a guest is trying to put a game together, however his true passion is football, having played it a lot when he was younger. He is an avid fan of Manchester United and Rome's S.S. Lazio, and when it comes to international competitions, he follows England all the way, although he is yet to see the Three Lions "bring it home".
"I enjoy working at Siladen Resort & Spa very much. This island is like my second home, and the people who live and work here are basically my extended family."
Jerrie
Despite coming from the mountainous highlands, Jerrie loves living on Siladen because the lack of traffic and the small population makes it easy to find peace and quiet, but at the same time, he knows the islanders well enough that he always has people to spend time with when he wishes.