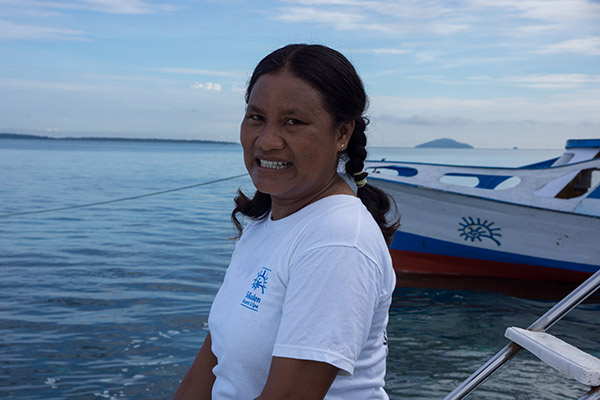 For June, we will be moving back to the dive centre for our monthly "meet the staff" blog, and we will be introducing you to another member of the staff who has been with us since we starting building the resort nearly 20 years ago. Meyti Bawekes has been an integral part of our team since the very beginning, and although she is now one of our most senior dive guides, she has not spent her entire Siladen career in the dive centre.
Meyti was born and raised on Siladen, although her parents are originally from another part of North Sulawesi – Siau Island, several hours by boat north of the North Sulawesi mainland. As a child, Meyti wanted to be a teacher, and never imagined she would be a diver, yet alone a dive guide.
Before working with us, Meyti used to work for her relatives as a household assistant in both Manado and Surabaya (Central Java). She started working for Siladen Resort & Spa when the resort was being built back in 2001, and she signed her first contract with us in 2003.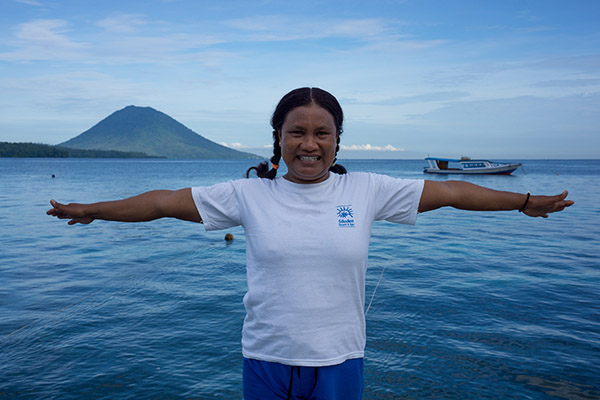 Meyti spent the first ten years of her Siladen career in the housekeeping department, and along the way, she decided to try scuba diving. She instantly fell in love with it and in 2011 she switched to the dive centre to become a dive guide. She has always been passionate in the ocean, and she has brought that passion with her to the dive centre. Her favourite critters are nudibranchs, and she knows a huge amount of different varieties by their Latin names. When she isn't diving, you can often find her sat in the dive centre, studying the critter books – learning more about the different species that live in Bunaken Marine Park.
Meyti loves being a dive guide, and she has many repeat guests who love to dive with her. Her father was a fisherman, so as a child, she spent a lot of time at sea. She believes that the coral reefs need protection to survive in the long term, and as a dive guide she can be a participant in protecting the reefs — keeping a watcheful eye on the health of the reefs, as well as reporting or intervening with any irresponsible diver behaviour.
During her days off, Meyti likes to spend her time staying and relaxing at home — cleaning the house, cooking, or watching a bit of television. She has inherited her fathers love for fishing, so when she has a bit of spare time on her hands, she enjoys heading out to sea in her boat and catching her dinner. She has two brothers who also live on Siladen — Roy, and Herpy (who also work in the dive centre, but as boat crew)
Working in Siladen Resort is like living the dream. I can work and follow one of my hobbies at the same time! Siladen Resort & Spa is not only a company, but a place where I can improve myself, my abilities, and learn new things everyday. The more I learn and improve, the better experience I can give the guests.
Meyti Bawekes