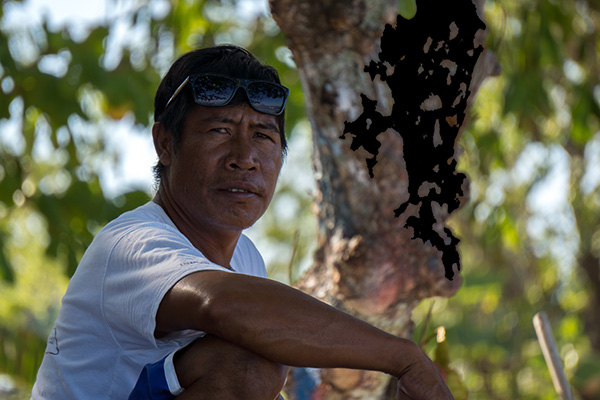 Being a dive resort based on an isolated island, one of our most important assets are our boats – as without them we would not be able to offer any diving services or even be able to bring guests to the resort! As important as our boats are to our operation, they would be useless without having anyone to sail them, and captaining a boat is nothing like driving a car. To be a good boat captain, you need to have an in depth understanding of the sea, the tides, the currents, and most importantly, you must be able to read the weather and make important judgment calls to keep the boat and her passengers safe.
So for this months 'Meet the Staff' entry, we will be introducing you to one of our longest serving members of staff, and our head boat captain – Pak Vence.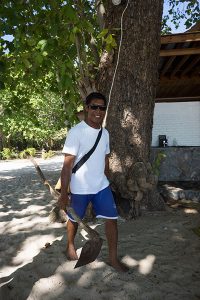 Born on Siladen in 1972, Vence Pontoh has been a man of the sea for his entire life. He grew up on Siladen, and spent countless hours out in the open ocean fishing with his family, and at age 12, it was time for him to learn how to drive and maintain boats. We consider ourselves extremely lucky to have somebody as experienced and knowledgable of the ocean and the local area as Vence, and it is a bonus that he is incredibly friendly and loves chatting to guests.
Before Siladen Resort & Spa opened, he worked as a boat captain for a resort in Manado for just under a year, however he did not enjoy the long commutes to and from Manado, so he decided to leave the city and become a fisherman on Siladen once again. When the plans were announced to build Siladen Resort & Spa, he joined the construction team, and when the resort opened in 2003, he was immediately offered a position as a boat captain. Over the years, his role has kept more or less the same – ferrying guests to and from the North Sulawesi mainland, taking out the divers, and making twice weekly resupply trips to Manado.
Before Siladen 12 arrived in 2015, all of our boats were built out of wood, which meant they required regular work to keep afloat – as salt water is constantly degrading, and eventually rotting the wood. We would hire a carpenter whenever this work was necessary, and as you can probably imagine, such specialist work does not come cheap. Vence, being the inquisitive and knowledge thirsty person he is, would always offer to help the carpenter, even staying beyond his working hours to help out and learn more. One day, he decided that he had learnt enough to do it himself, and now, we don't need to hire a boat carpenter to fix the wooden boats, as Vence can run the repairs himself!
Being someone who loves the ocean as much as he does, over his time with us we have offered Vence multiple opportunities to become a dive guide, and over the years he has done several Discover Scuba Dives, and is actually a very competent diver. Even though he enjoyed the dives, and still makes the occasional dive every now and then, he feels it is not his passion, and he much prefers to stay on the boat and keep a watchful eye on everyone else in the water.
"I am happy and thankful Siladen Resort opened as it gives many local people jobs, however being thankful is not enough, the best way for me to show my appreciation is by doing the best job I can possibly can.
I enjoy working as a boat captain very much. It is a pleasure to see the smiles on every guests faces after seeing that they enjoy the marine beauty that my home has to offer"
Vence Pontoh
In 1999, Vence married one of our house keeping staff, Meyse Bawoha, who originally hails from Sawang Jaoh village on Sangir Island – a large island that sits halfway between North Sulawesi and the southern Philippines – and together they have had two children: one son and one daughter. Their daughter – the older of the two – is currently in her final year of college to become and elementary school teacher, and their son, Albrian, is now working with us as boat crew, and is currently completing his dive courses to hopefully one day become a dive guide.
When Vence is not working, he likes to spend most of his time relaxing at home with his family, or playing football with his friends on the beach. Being a fisherman at heart, he also enjoys fishing every now and then, but he only really does so to put some extra protein on the dinner table.