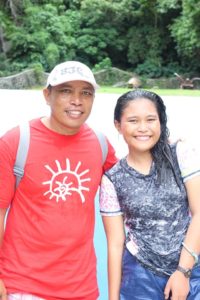 For the January edition of meet the staff, we will be heading back to the dive centre to introduce you to one of our most senior dive guides — Robi Bawekes.
If you have stayed and dived (or snorkelled) with us before, there is a good chance you have met him. His outgoing personality and light hearted sense of humour makes him a hit among guests, and he is often the dive guide that gives the boat and dive briefings.
Born and raised on Siladen, Robi has spent his entire life surrounded by the incredible waters of Bunaken Marine Park, and the ocean has sustained his entire working life in one way or another.
His first job in the diving industry was between 1996 and 1998 at Indo Pacific Divers, and after that he took a break from the tourism industry and spent the following five years working as a fisherman — which is very common for those who grew on on Siladen, Bunaken, or any similar islands.
Once Siladen Resort & Spa opened its doors back in 2003 and started looking for staff, Robi thought it was time to give tourism another shot, and he joined the dive centre. Initially, he spent his first year working as boat crew, however as he holds a boat captains licence, he was soon offered the role of captain — a position he held for another year.
After the year working as captain, Robi realised that he would rather be spending more time in the water that on the surface, and he began working as a dive guide. Now, 15 years and thousands of dives later, Robi is not only one of Siladen Resort & Spa's most senior dive guides, but one of the most experienced dive guides in the whole North Sulawesi region.
There is really only one reason Robi is still a dive guide after so many years — his passion for the ocean and the creatures that inhabit it. When he is not working, Robi loves to go swimming, snorkelling, fishing, or even diving — basically anything that involves him being in or around the ocean.
Robi lives just metres from Siladen Resort & Spa. His daughter, Keira Bawekes, is currently is 9th Grade of junior high school, and loves dancing more than anything.
I hope Siladen Resort & Spa will always be the number one dive resort in the world, and also the number one resort in each employees heart.
Robi Bawekes