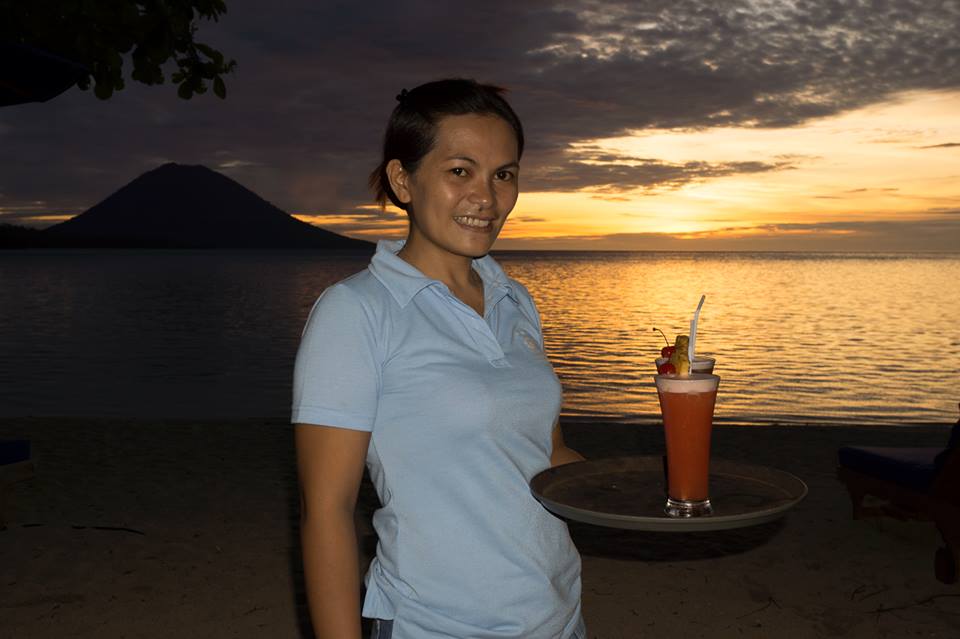 This month, our featured staff member is Silvana , our restaurant manager. You would be forgiven for thinking that she is one of our longest serving team members, because she has actually been with us for just under four years. In that time, however, she has proven herself to be a great team leader and very popular among our guests.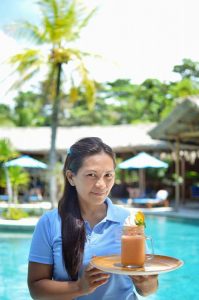 Silvana grew up with her four siblings (two brothers and two sisters) in a village called Ranotongkor, in the Minahasa regency – the highland region of North Sulawesi. Upon finishing school, she began working in an administrative position for a Village Unit Cooperative, where she stayed for six years. Her first job in the hospitality and tourism industry was with Minahasa Lagoon Resort, on the North Sulawesi mainland. Initially she was working in the housekeeping department, however after 18 months they gave her the chance to work in other departments of the resort. After a six month stint in front office, she decided to try out the restaurant, where she spent her last two years with that resort.
It was December 2014 that Silvana joined Siladen Resort & Spa as a waitress. From the very beginning she showed excellent skills in guest relations and organisation, and was promptly promoted to head of department. Despite being an excellent restaurant manager, it was never a job prospect that ever crossed her mind growing up. English was among her most hated subjects in high school, and she tried as hard as possible to not join the class (although you would never know that by talking to her now).
Despite never dreaming of working as a restaurant manager, Silvana now greatly enjoys her work. She believes Siladen Resort & Spa to be a comfortable working and living environment, and she loves making new friends and meeting new people from all over the world.
"I always give my best to the guest to make them comfortable and satisfied with the service. If we can make it feel like home for them, then maybe they will come back again for another wonderful experience."
Silvana  Poluan
Silvana married a man from the neighbouring village of Tanawangko in 1997, with whom she has had one daughter. Her daughter is now 19 years old and is studying to be a psychologist in Salatiga City in Central Java. Whenever she takes extended days off or annual leave, she tries to fly to Java to visit her daughter at college.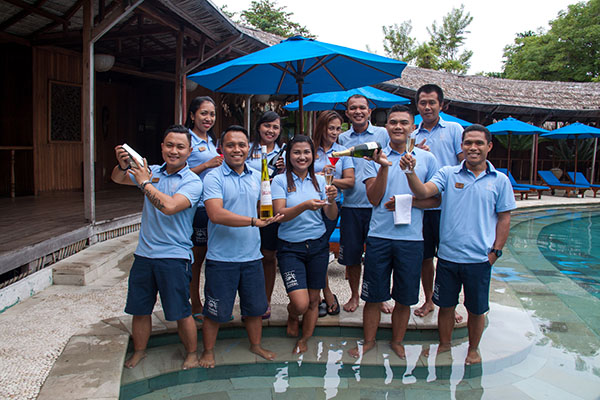 During the work week, Silvana stays in the staff accommodation on Siladen, however when she takes her days off, she will return to her home village, Ranotongkor, where she has a house and a garden that she enjoys tending to. Gardening is one of her main pastimes, and she is always collecting seeds and plant cuttings to try and grow her flower collection.