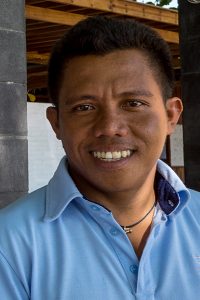 If you have ever stayed with us at Siladen Resort & Spa, you would have met and dealt with Teddy, our Indonesian dive centre manager. You may have even done some dive training with him.
When Teddy is not working, he can be found at his beautiful home in the centre of Siladen. His home was built by his family, and he and his brothers continue to work hard and develop it. Teddy is married with two children – a five year old son, and a two year old daughter – although it won't be long until his family greet their third child.
Teddy has been working with Siladen Resort & Spa for more than ten years – starting on April 7th 2007. His initial position at the resort was pool maintenance, however it didn't take long for him to don a set of scuba gear and get in the water, and by December 2007 he was already qualified as a PADI Open Water Diver.
He instantly fell in love with diving, and almost immediately went on to complete his Advanced Open Water. Because he wanted to get in the water as much as possible, he left his old position and joined the dive centre as boat crew. Being boat crew allowed him to fit in more dives, and helped expand his scuba knowledge. By 2009, Teddy had completed his PADI Rescue course, and decided he wanted to work as a dive guide. He instantly became a hit amongst guests, thanks to the combination of his easy going attitude and his incredible spotting skills. It didn't take long for him to have regular repeat guests.
Still, he wanted to get more out of diving. Fast forward a few years, and Teddy could be found spending a lot of time in the dive centre office, helping out with the admin work. Because of his obvious desire to learn, and his dedication to Siladen Resort & Spa, he was offered to complete his PADI Open Water Instructor Course and become a member of management.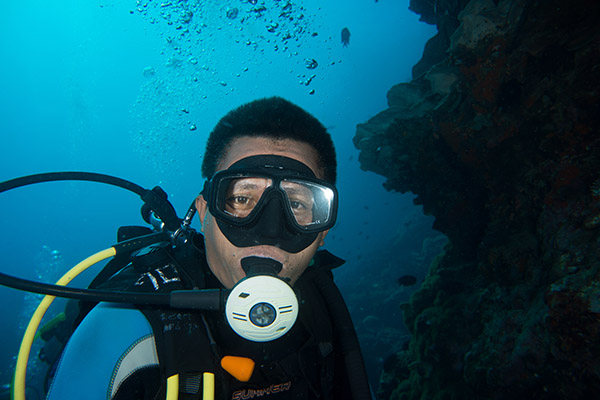 He left Sulawesi for Bali in May 2015 to complete his IDC (Instructor Development Course). Although he aced almost all sections of his IE (Instructor Examination), he failed one of his written exams – PADI written exams are notoriously difficult for non-native English speakers, as some of the questions can be very strangely written. This didn't put him off though, and in December 2015, he tried again with a course director based in Manado who teaches lots of Indonesian instructors. This time he passed with flying colours.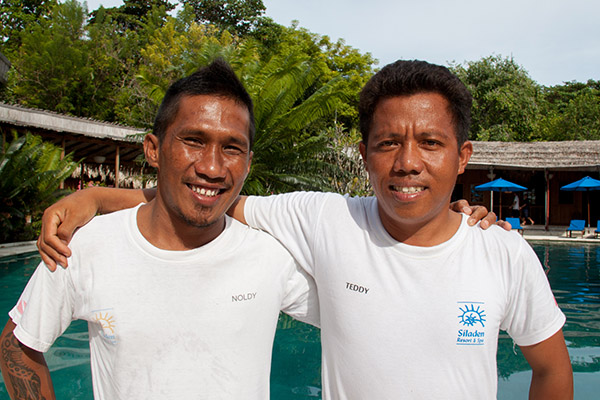 "I like to be a dive instructor because I want to introduce people to the beautiful underwater world, and I have made so many new friends from all around the world.
Actually, dive centre manager was never really my goal. I just love what I am doing, and with help from others it just happened that way. Siladen is very important to me, and I have so many memories of this island since I was a kid, especially of my father.
Teddy
Apart for teaching PADI courses, Teddy's day to day duties involve organising dive centre operations, equipment maintenance and inventory, staff scheduling, meeting and greeting new guests. Still, old habits die hard, and Teddy still loved to guide when he has the chance.