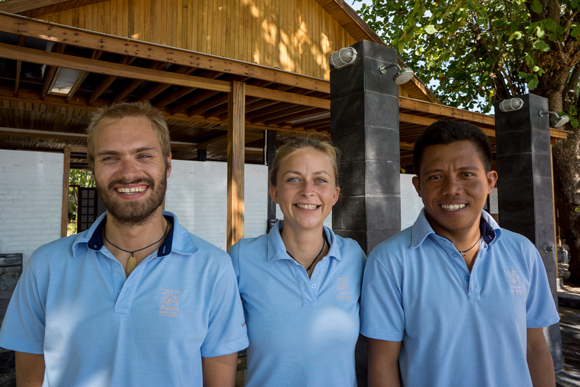 We are happy to welcome our new team to Siladen Resort and Spa. Mike and Natalie are both experienced divers and instructors who have worked in many different parts of the world, teaching both recreational and technical diving, as well as having experience in marine conservation.
"We would like to thank all the team at Siladen Resort & Spa for giving us the opportunity to work with them. Diving and teaching are both huge passions of ours, and being able to introduce new divers to some of the world best coral reefs is an unbelievable opportunity. We are also very excited with the local muck diving." Mike and Natalie
One of our long term dive guides, Teddy, has also joined the new managerial team. He has a vast knowledge of the local area, and will work closely with Mike, Natalie and the rest of the dive team to ensure that your dive/snorkel experience will be safe, fun and memorable. Teddy, originally from Siladen, joined us in 2008 as a member of the boat crew team. Since then he has trained as a guide, and will soon be taking his PADI Open Water Scuba Instructor examination.
"I would like to thank Siladen Resort & Spa for giving me the opportunity to be a part of the management team for the diving centre. I look forward to the new challenge and all the new experiences it will give me" Teddy