Siladen News
We are very happy to be able to welcome our wonderful friends and international guests, finally, back to Siladen Resort & Spa again, to enjoy the resort and diving to the full without any restrictions. On January 5th 2022, we were allowed to re-open, initially with quarantine guests. Within a matter of weeks, as restrictions were lifted, we were delighted to start welcoming international travellers again, albeit with pre-travel visa applications needed at first.
We are also happy to announce, the Immigration Department now allow, as pre-Covid, visa's on arrival, in Manado, Jakarta and Bali for 60 countries. There is no requirement for any PCR or Rapid Antigen tests to enter the country for vaccinated travellers, which is great news! If you are planning your next visit, please send us an e-mail to [email protected] or contact your favourite travel agent for the latest travel information.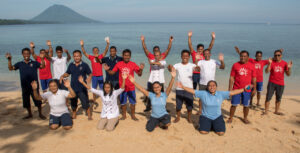 Along with Ana and Miguel, our whole team is so happy to welcome guests back to the resort and look forward to welcoming you in our friendly and happy way, ensuring excellent customer service and satisfaction is our priority.
One of our greatest pleasures this year, was welcoming back so many repeater guests who had just been waiting for Indonesia to lift its restrictions. These guests were very happy to see the familiar smiling faces of our amazing team back in the dive centre, restaurant and other departments.
We have been getting very good feedback from returning guests as they recognised we maintained the resort during pandemic so it looks its very best. This year we also had a good amount of water during rainy season so grounds are green and lush.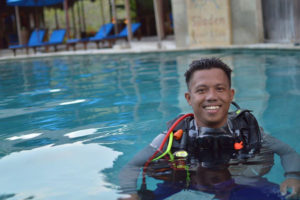 Teddy our very popular and long standing member of the dive centre staff, is still one of the dive centre managers. This year we are also happy welcome Melania and Daniel to the Siladen Dive family to work alongside Teddy.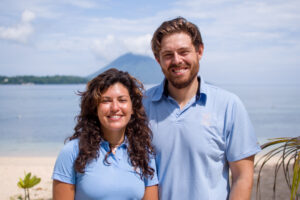 Melania and Daniel are an Italian/Danish couple who have been together for four years, working together in their love of the ocean. The very experienced couple come to us directly from the Maldives.
With the enforced break in diving in Sulawesi during Covid, the reefs and marine life have flourished. The diving have been fantastic and we have found, not only interesting critters like flamboyant cuttlefish and Spanish Dancer nudibranchs during night dives, but have also had several eagle ray sittings. The last Dolphin Tour was amazing with many dolphins spotted in the Bunaken National Park.

This year we have had the pleasure to welcome several new baby turtles, with a couple of nests hatching over the last days. There are 3 other nests on our beaches that should hatch during the next couple of months. We hope you will come to visit us at Siladen Resort & Spa to see and experience it for yourself.
Here is a video of the last hatching: