At the end of 2017, we said goodbye to our dive centre managers, Mike & Natalie. They had been with us for nearly 3 years, and have bonded very well with the team and the community, as well as helping to implement a number of positive changes over the time they spent with us. It was a difficult decision, but they decided it was the right time to move back to Europe. We would like to thank them for all their hard work and dedication over these past years, and we wish them the best of luck and hope they will be back soon for a visit.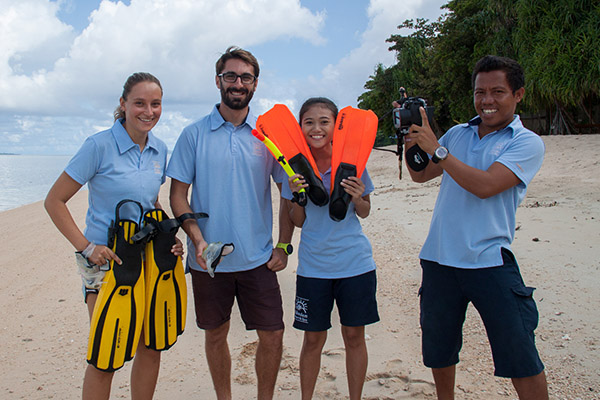 Their departure marks the arrival of our new dive centre management team; Romina & Galen. Alongside Teddy – our local dive centre manager, who has been a PADI instructor since 2015 – they will take control of the dive centre, running day to day operations and teaching a wide range of PADI courses.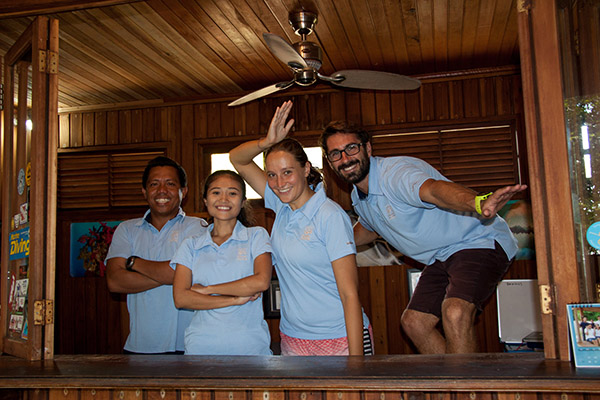 Galen, 32, is a French PADI Open Water Scuba Instructor, and can teach many specialties – Emergency First Response, Nitrox, Equipment, Emergency Oxygen Provider, Wreck, and Sidemount. With over 1500 dives under his belt in locations all over the world, he will make a fine addition to the team, especially since he can conduct courses in French, English, Spanish and German. Small remote islands such as Siladen are not new to Galen, as he previously worked as head dive instructor on a similarly sized and remote island in Malaysian Borneo.
Romina, 28, is a German PADI Open Water Scuba Instructor who specialises in underwater photography and videography. Bunaken Marine Park, much like the rest of North Sulawesi, is heaven for underwater photography, and a large number of guests who visit our dive resort are either established photographers, or have cameras and are looking to get more out of them. Her knowledge and underwater photography and videography will help us push the dive centre in the direction we want it to go. Much like Galen, she is very multilingual, being fluent in German, English and Spanish, and having a good proficiency in Polish and French. Not only is she a keen underwater photographer, she is also passionate about marine conservation, and is looking forward to working with the locals to help protect this beautiful and unique environment.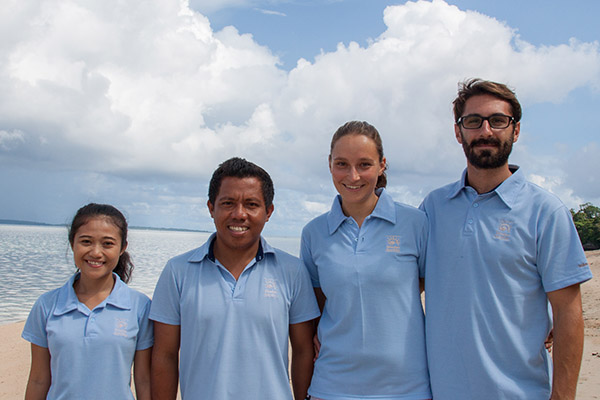 "The world-class diving we have on our doorsteps makes Siladen Resort & Spa a great place to work, but what makes this home for us is the amazing and dedicated people that we get to work with"
Romina & Galen
We are looking forward to working with them, and hopefully over the next few years we can bring Siladen Resort & Spa to new heights, making guest experience better than ever before.