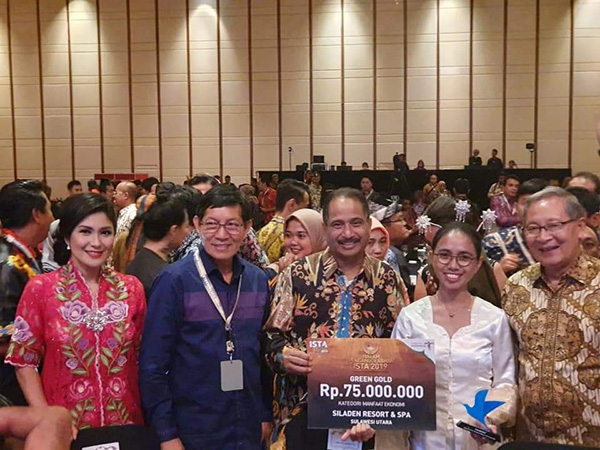 We are very happy to let you all know that Siladen Resort & Spa has received the Green Gold Award from the 'Indonesia Sustainable Tourism Awards (ISTA) 2019.
These awards are given to resorts, operations, and destinations throughout Indonesia, to show recognition for their hard work to pursue sustainable tourism and environmental practices. From the different awards at the ceremony, Siladen Resort & Spa won the category regarding economic benefits for the local community.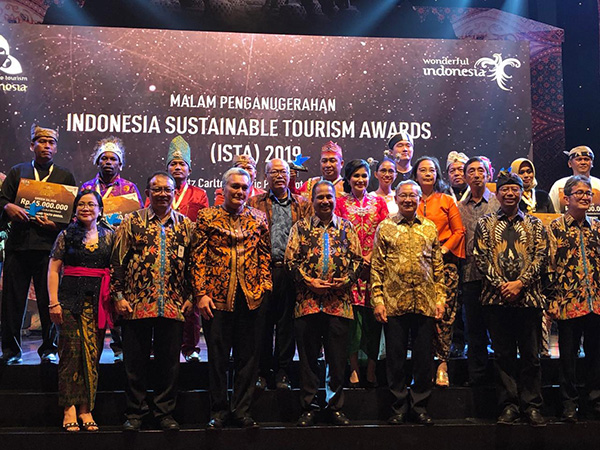 Since before we even opened our doors nearly seventeen years ago, our philosophy has always been to work with the local community, as it is only by working together that we can both continue to improve and grow. It feels fantastic to not only be recognised for our efforts, but also be be rewarded because of them.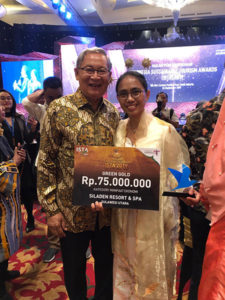 It goes without saying that the biggest thank you from us goes to the Siladen community, as without them, none of this would be possible. You have been with us, and on our side, since before the first slab was ever laid at the resort, and we hope th at we can continue working together for as long as Siladen Resort & Spa exists. An extra special thank you goes to our operations manager, Riri, who acts tirelessly as our liaison with the Siladen community.
Riri went to Jakarta for the award ceremony, where she received not only the award, but also a prize fund of 75,000,000 IDR. We are going to use this prize money to employ someone from the village to help us with our garbage collection and separation, as we try to recycle as much of our waste (and collected garbage) as possible.
We already conduct multiple monthly beach clean-ups, working with the local school children and community. We also conduct our own dive site clean ups whenever the need arises, and obviously, we spend most of our time cleaning the garbage that washes up on our own beach during high tides. Due to the sheer amount of garbage we find, separating and recycling has proven to be a challenge. But with an employee who's sole responsibility is to control and separate the waste, we are hoping that the garbage wont have a chance to make its way back into the ocean.