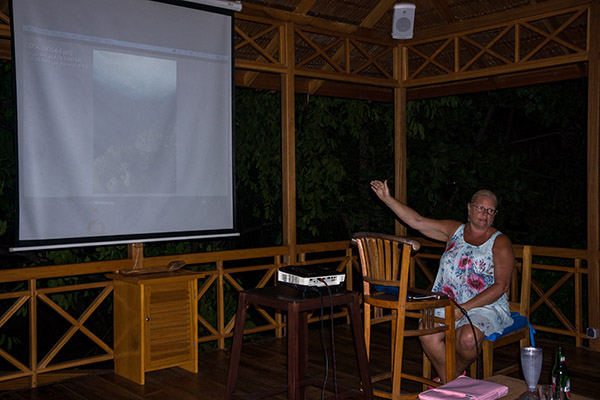 It was a pleasure to have Lisa Collins with us once again for her INON UK UW Wide Angle Photography Workshop.
Lisa is an award-winning underwater photographic journalist who is a regular major feature writer for many dive publications.
"We have been very privileged to run our latest INON UK Underwater Photography Workshop at Siladen Resort and Spa, making the most of the incredibly beautiful, healthy and diverse dive sites in Bunaken National Marine Park.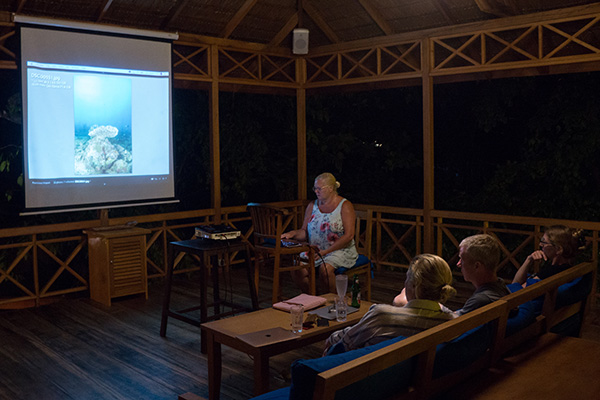 This time we concentrated on teaching wide angled photography in an underwater environment perfectly designed for it. The stunning wall diving around Siladen, Bunaken and Manado Tua islands provided a plethora of subjects for the tasks set for the students, including close focus wide angle, flash positioning, shooting the sun, off camera lighting and Snell's Window.
The dive centre managers and staff helped tremendously by advising on the right dive sites for the conditions we required, advising on sun positioning, the best shallow dives and dives without too much current, to give the students the best possible chance for practising techniques taught on the workshop. Our dive guides were excellent, advising on subjects, being sympathetic to our needs for small group diving so there were not too many bubbles in the water, which could affect wide angled images, and also modelling for students.
Some of the students participating in the workshop gave the following feedback:
Natasha – It has been an amazing, informative and instructive underwater photography workshop taught by Lisa, in the most gorgeous location in the world.
Stuart – It has been a fabulous workshop that has taken my photography to the next level in a perfect location.
Linda – What a week! Siladen workshop has everything – amazing hosts and tutors, stunning reefs and the resort that offers tranquillity and restoration. I can now take photos both wide angled and macro, lit correctly, in focus and mostly without backscatter.
Thank you to all at Siladen Resort and Spa for another successful INON UK Underwater Photography Workshop."
Lisa Collins
www.inonuk.com
www.shop.inonuk.com
https://www.facebook.com/INONUK