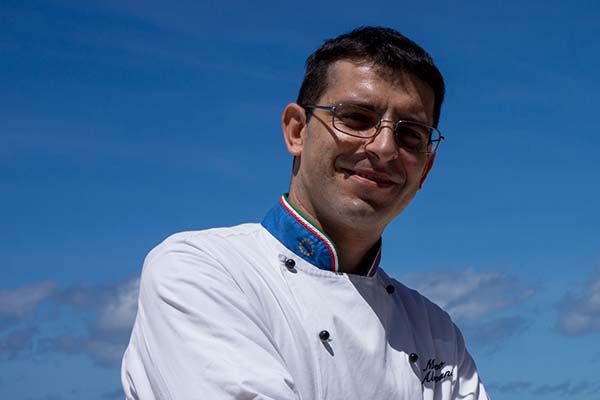 One of the things we are very proud of at Siladen Resort & Spa is the food that we provide our guests. For us, food is more than just the fuel required to fill our days with diving and snorkelling, and we think most of you would agree with us there! We are lucky to welcome guests from all over the world, and many say that our food is one of the things that sets us apart from other, similar level resorts.
So for this months entry of 'meet the staff', we will be heading back to the kitchen to introduce you to Matteo Abrignani, one of our highly experienced chefs.
Originally from the small city of Biella, Piemonte, set in the beautiful foothills of the Italian Alps, Matteo grew up eating many of the fine delicacies that Italy is world renowned for. His passion for food soon became his job, and with 15 years old, Matteo was already getting a taste of kitchen life on the weekends and during school holidays.
Once he left school in 2003, he went straight into full time kitchen work, cooking in hotels and restaurants — working his way up from the kitchen help, to eventually reaching the position of head chef. It was in 2013 that his cooking expertise took him beyond the Italian border, and he took kitchen positions in the Maldives, Thailand, and Egypt.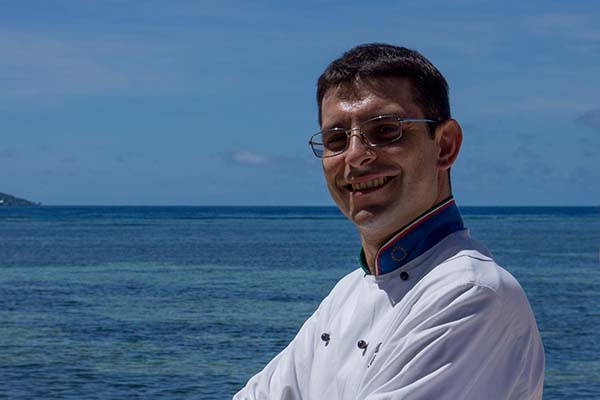 Then in 2016, his old cooking teacher asked him if he would consider working in Indonesia. The job would only be for sixty days, and he would mainly be teaching Italian and European dishes to the local kitchen team. At the time, Matteo had nothing else on, so he took on the role. Those sixty days have turned into three years and still show no sign of finishing!
When he arrived, Matteo fit in perfectly with the rest of the kitchen team, and within a couple of weeks he was completely settled into island life. He was already considering whether he should extend the initial two months or not, but then he met Julie (from the front office), and she made his decision to stay much easier.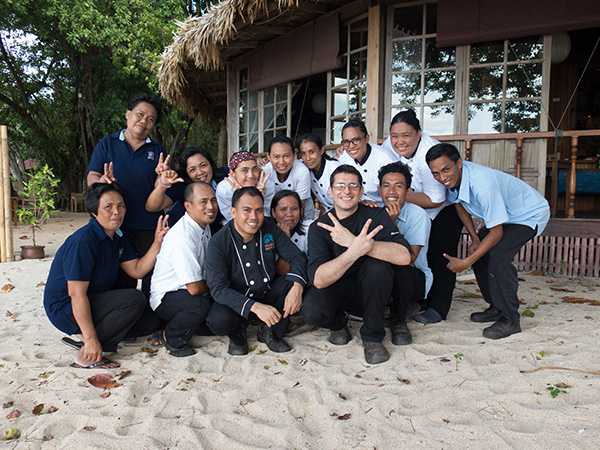 Matteo is a very sociable person, and quickly made friends with people from all departments and the Siladen village. He became good friends with all the kitchen staff, and soon developed a great relationship — both personal and professional — with our head chef, Pak Yongki.
As he works full time, he spends most of his time on the island, and lives in one of the staff houses behind the resort. When he's not working, he likes to spend some of his free time trying to grow vegetables, chilli, and herbs — not an easy feat on a sandy, tropical island (although something Om John has managed to master). When he takes his days off, Matteo and Julie like to head over the to the mainland and explore North Sulawesi and beyond.
Living far from home can be difficult, but still, Matteo's family are happy he is out here discovering more of the world, and they couldn't be prouder of his decision to move half way across the planet to realise his dreams.
What I like about this job is building relationships with people from other countries and cultures, meeting new friends, guests, and always learning something new. Especially for the food — I can learn about all the different regions and traditions.

Siladen is a very nice resort where everyone is always trying to bring up the level for the guests. It is a job where we can grow and have new life experiences.

-Matteo Abrignani