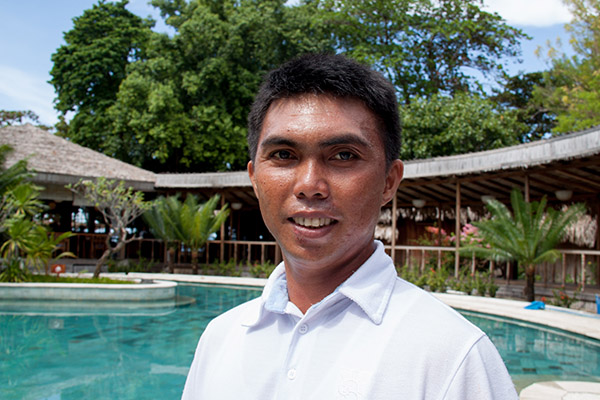 This month, we will be introducing you to another member of the team who has been with us for well over 10 years; Pak Elrik Tatauhe, the head of our housekeeping team. There is a good chance you have spotted him around the resort, as Elrik and his team work tirelessly to ensure that Siladen Resort & Spa is always looking pristine.
Born in 1989, Pak Elrik was raised as an islander. He would spend his days playing football on the beach with his friends, and much like others raised on Siladen, he spent much of his youth fishing with his family – both activities he continues to love and take part in to this day. Growing up, he never imagined he would end up in a managerial role in the tourism industry, yet alone as head of a house keeping department.
He began working for Siladen Resort & Spa in the summer of 2005, and his original position was working in the "Public Area" – which means his duties were split between front office, bar, boutique and restaurant – before being transferred to the house keeping department as a room cleaner. He carried on with this role for almost ten years, and because he demonstrated a great work ethic, a keen eye for detail, and team spirit, he was promoted to head of department in 2017 once the previous department head retired.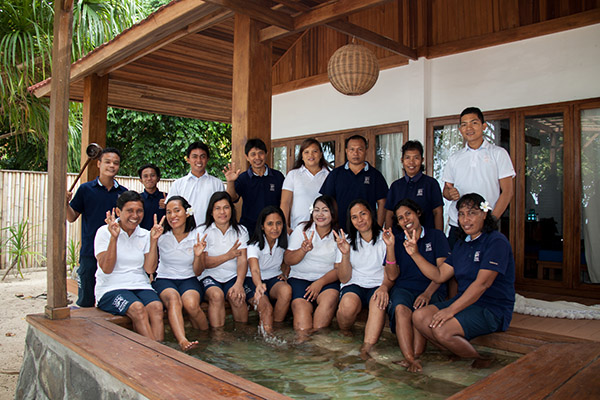 Because of his continued desire to learn, Pak Elrik is one of the staff members that we have sent away for work experience – so he can experience new things, and improve upon his skills. His first work experience was to the Aston Hotel in Manado, which he did back in 2009. Aston Hotels are a chain of high end hotels found throughout Indonesia, and offered the kind of room cleaning service that Siladen Resort & Spa wanted to emulate. He really enjoyed his experience, and wanted to learn more, so more recently, we sent him to work for a month in a luxury resort in Bali, where he would shadow the resort house keeping supervising systems. This work experience was before he had been promoted to head of department, however due to his hard work over the years and his determination to learn, Pak Elrik was the clear choice for the trip, and it was an experience he gained lots of knowledge through, and thoroughly enjoyed.
"Never stop learning because life always gives us lessons. The biggest achievement in life is getting past the struggle, and becoming better because of it."
Pak Elrik "
Today, Pak Elrik still lives on Siladen island with his wife since 2010, Rahel (who works in he Siladen Resort & Spa kitchen), and his eight year old daughter, who is currently in fourth grade at the Siladen school. He still spends much of his free time in the same way as he did in his youth – playing football with his friends, fishing, and relaxing with his family. He still loves living on Siladen, and finds living surrounded by nature a far more enjoyable lifestyle than living in the hustle and bustle of a big city like Manado, or a busy resort island like Bali.