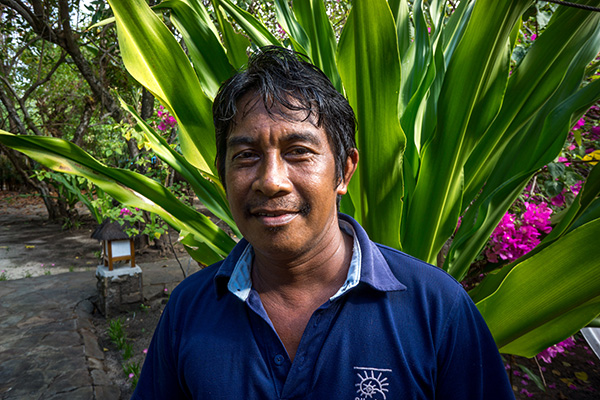 For our latest edition of meet the staff, we will be heading behind the scenes and introducing you to a member of the Siladen family who you will probably have never met, but whose creations will have impacted your vacation in one way or another.
At Siladen Resort & Spa, we try to be as self-sufficient as possible — we like to grow as much fruit and vegetables as is possible on this small, sandy island, and any small building or boat repairs can be done by ourselves in-house. Since 2012, we have been partly self-sufficient with our furnishings and repairs, all thanks to Bernard Makawimbang — aka Pak Onong — our in-house carpenter.
Pak Onong was born and raised on the North Sulawesi in the village of Tiwoho — a popular muck diving and night diving spot among our guests. He moved to Siladen in 1994, and by 1996 he was married and settling into island life with his wife and daughter. During his free time, he enjoys the peaceful island life, spending time with his family and friends, and playing sports.
Since joining us in 2012, Pak Onong has been working tirelessly behind the scenes, never wanting to move to another department. He is passionate about working with wood, and it brings him great joy to know that his creations are used by people from all over the world.
Most guests are not aware of it, but sitting behind our garden bungalows is a fully equipped carpentry workshop — which is where Pak Onong works his magic. Here he turns pieces of timber into many of the tables, chairs, and other furnishings you find around the resort. But more importantly, he is partly responsible for renovating and repairing the resorts wooden structures — which is almost all of our buildings. Being on a small island has many benefits, but it can also make life difficult. Sun, salt, and heavy rains from the yearly monsoon are constantly rotting the wood — no matter how much we can treat it. Everything needs to be replaced eventually, so we are happy to have such a passionate, reliable, and skilled carpenter on hand.